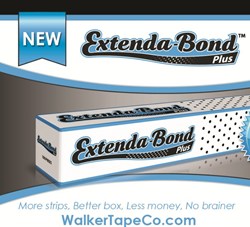 People are reporting longer hold times.
West Jordan, Utah (PRWEB) August 07, 2013
Walker Tape Company is pleased to announce the release of a new tape product, Extenda-Bond Plus. They have been working to improve the original Extenda-Bond for years now and finally have it perfected.
Extenda-Bond Plus now has 100 strips per box instead of 90, and the new box has been redesigned with a removable lid for salon use. They have also added an embedded fingerprint to give the tape a dull finish, so it will not shine through the hair system. One of the biggest breakthroughs with this new product is the tape does not break down as fast as the original. "People are reporting longer hold times," says Shane, CEO of the company.
Extenda-Bond Plus is sure to take over much of the market as it's priced lower than the original. Walker Tape has done this with other products. They focus on making current systems more efficient to then cut costs and pass the savings on to their customers. This model has worked well for Walker for many years.
Walker Tape Company was established in 1985 and is a family owned business. They are the leading manufacturer in hair replacement tapes. They are available Monday-Friday 7:30am-4:30pm MST at 801-282-2015, or WalkerTapeCo.com