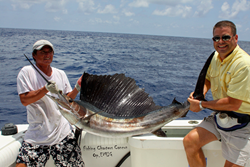 Islands of Loreto, Baja, Mexico (PRWEB) August 06, 2013
The next big catch is right at your fingertips with new sport fishing excursion offerings aboard Mad Dash, the new Luhrs 320 Tournament boat from Villa del Palmar at the Islands of Loreto, the newest member of Villa Group Resorts.
The new excursions allow guests to enjoy one of the best sport fishing locations in the world as part of either shared group outings or private charters. The program is even more special because the five islands that make up the Islands of Loreto lie within the federally protected Bay of Loreto National Marine Park, where no commercial fishing is permitted. Only licensed sport fishing is allowed, and Villa del Palmar provides its guests with the required permit.
Mad Dash took its maiden voyage in late July and her first guests were professional golfer Lorena Ochoa and her family, who were in Loreto vacationing. Ochoa's son caught a 150-lb Marlin during the voyage. Besides Marlin, the Islands of Loreto are wonderful for those hoping to hook Dorado (Mahi Mahi), Grouper, Snappers and Yellowfin Tuna.
"The Islands of Loreto are an excellent year-round sport fishing location and we are thrilled to be able to offer our own sport fishing excursion through Villa del Palmar at the Islands of Loreto," said Owen Perry, owner and president, Villa Group. "We make it easy for our guests to enjoy all that Baja has to offer, and sport fishing is another one of those must-do activities while visiting Villa del Palmar at the Islands of Loreto."
Guests will set sail with Captain Will Block – who has more than 15 years of experience in commercial fishing – to visit the plentiful, indigo blue waters of the Sea of Cortez, which was dubbed "The Aquarium of the World" by Jacques Cousteau because it is home to nearly 1,000 species of reef-dwelling and migratory fish.
Fishing enthusiasts and first-timers alike can choose between a private charter for $750, which includes an eight-hour tour just outside of the Marine Park for up to four guests and two crew members, or a shared excursion aboard Mad Dash, for $250 per person, with a minimum of two people required to cast off. Tackle, beer and soft drinks are included in both sport fishing excursion options, and guests can savor their catch by bringing it back to the resort to have renowned Executive Chef Roberto Cardazzo prepare it for that evening's dinner.
Fishing excursions begin after departing the Villa del Palmar at the Islands of Loreto lobby at 6:00 a.m. and return to the resort around 3:00 p.m., and are open to children 12 years old and up.
With more than 100 miles of coastline, 300 sunny days a year and year-round surface temperatures averaging in the 80s, the 800-square-mile Loreto National Marine Park is a fisherman's paradise. More information on these new offerings can be found at Villa del Palmar at the Islands of Loreto's activities website, http://www.myloretoexperience.com.
The Islands of Loreto, located on the east coast of the Baja California Peninsula on the Sea of Cortez, is known for its quiet beaches, scenic vistas, rich history and astounding natural habitats. The region caters to adventurous travelers looking to explore the many outdoor opportunities in addition to scuba diving, including snorkeling, hiking, and mountain biking, as well as people looking for a getaway where they can enjoy the beauty and authentic culture of the region without the commotion of heavily-trafficked Mexican destinations. The destination is fast becoming an alternative for travelers looking for a slower pace with all the options and amenities they have come to expect from a vacation in Mexico.
For reservations or additional information, please contact Premium Service at premiumservice(at)vgloreto(dot)com or call 866.209.0726, ext. 4005 from the U.S. or 855.440.5590, ext. 4005 from Canada. To learn more about Villa del Palmar, contact your preferred travel professional, visit http://www.villadelpalmarloreto.com/ or call the number above.
ABOUT VILLA DEL PALMAR AT THE ISLANDS OF LORETO
Baja's First Million Star Resort
Villa del Palmar at The Islands of Loreto is a self-contained destination resort on the Sea of Cortez, off the eastern coast of the Baja peninsula overlooking Danzante Island (one of five in the region). It features 181 new, spacious, beautifully appointed Deluxe Ocean View, one, two and three bedroom Suites with balcony or terrace, stunning ocean views, mountain views, outstanding restaurants, an attentive English-speaking staff, five swimming pools, a 39,000 square feet Spa, two tennis courts, beautiful beaches and a mild and warm climate year-round. The New York Times lists Loreto in its Top Ten Places to go in 2011. The travel article featuring The Islands of Loreto, Baja California South, Mexico ranked first among readers.
Guests can enjoy scuba and snorkeling tours in the protected Marine Park within the five prominent Loreto Islands, horseback riding, swimming, world-class fishing (catch a Dorado and bring it home to have a Villa del Palmar at The Islands of Loreto chef prepare it for you), paddle boarding, kayaking, whale watching and mountain biking. With complimentary shuttle service, guests can explore the historic town at the Islands of Loreto and visit the 1697 mission that made the town famous. The area is also known for its wildlife, including the 900 species of fish off the coast and in an area that has been declared a World Heritage Site. Hotel perks include a spa and fitness center, massages, salsa dance lessons and movie nights for children.
###