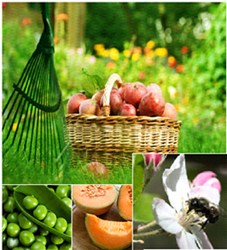 "Promoting mason bees for garden pollination supports our NGC mission to protect the environment and conserve our natural resources," says NGC President Linda Nelson.
Woodinville, WA (PRWEB) August 07, 2013
Making a world of difference is a goal shared by the newly formed partnership between Crown Bees, a mason bee pollination and education company, and the National Garden Clubs, Inc. (NGC), the largest worldwide nonprofit organization of volunteers pursuing gardening best practices and education for a sustainable environment.
Dave Hunter, founder of Crown Bees, http://www.crownbees.com, said, "This is a groundbreaking alliance to reach communities everywhere with an easy backyard garden solution to the declining honey bee. Nearly 1/3 of our food supply is threatened by lack of pollination. We need more alternative bee pollinators to keep food on the table tomorrow. NGC is a great partner to encourage gardeners to add mason bees to their gardens and orchards. Bees flourish in an edible landscape, and that is a great solution in which we all benefit."
NGC president Linda Nelson said establishing the Native Bee/BeeGAP program is a natural fit for her president theme, Making a World of Difference—Choices Matter. "The hallmark of NGC activities is to protect and conserve our natural resources, and to promote education so we may all be better caretakers of our beautiful planet.
"Increasing bee awareness and promoting the use of bee-safe products allow us to be part of this powerful solution," she said. "Understanding the value of our tiny pollinators leads to choices that support healthy bees, create healthy garden yields, and protect our environment."
Debbie Skow, an NGC member located in Washington State, was selected as the Native Bee/BeeGAP Chairman. She will collaborate with Crown Bees to implement the following bee programs:
1. Establish an NGC Bee Speakers Bureau to increase bee awareness and teach best practices at garden club, nursery and community events.
2. Include bee products in annual plant sales held by NGC's nearly 6,000 individual clubs.
3. Develop a bee education program, and continue to promote bees in NGC's youth programs.
4. Implement the BeeGAP Program (Gardeners Adding Pollinators): Members raise mason bees to pollinate their gardens. Crown Bees purchases excess bees to send to commercial farms to supplement honey bee pollinators.
About Crown Bees
Crown Bees, founded in 2008 in Woodinville, WA, is a leading mason bee pollination company engaged in marketing native solitary bees and bee-safe products. Serving the retail and commercial markets, its focus is supplementing the declining honey bee with efficient, gentle mason bees for food pollination. The Company develops and field tests bee-safe products, is a member of the Orchard Bee Association, and advisor to scientific researchers, including ASPIRE, an offshoot of the Specialty Crop Research Initiative (SCRI) sponsored by the USDA. Its products are sold in the USA, Canada and Europe.
About NGC
National Garden Clubs, Inc. (NGC), a 501(c)(3) nonprofit recognized as the largest volunteer gardening organization in the world, is dedicated to protecting and conserving our natural resources and to promoting education so we may all be better caretakers of our air, water, forest, land and wildlife. With nearly 6000 garden clubs nationwide, 70 national affiliates and over 350 international affiliates, there are numerous ways you can become involved and connect with like-minded people. Please visit http://www.gardenclub.org for more information and to find a club nearest you.