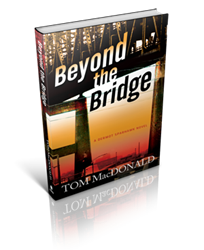 "Beyond the Bridge is a very elegantly constructed puzzle…there's plenty of action and real ingenuity in how the final revelation is proved. Hence with trumpets blazing and fireworks leaping into the sky, I herald a terrific read…"—David Marshall
Longboat Key, FL (PRWEB) August 06, 2013
Oceanview Publishing is proud to announce the release of BEYOND THE BRIDGE by award-winning author, Tom MacDonald.
BEYOND THE BRIDGE is available in:
Hardcover: ISBN #978-1-60809-090-7, 288 pages, thriller, list retail: $26.95
All Digital/eBook formats: ISBN #978-1-60809-091-4, thriller, list retail: $14.95
Tom will be making appearances throughout New England. These are just a few:
Wednesday, August 7th
Whole Foods
Grand Opening
Bunker Hill Mall
Charlestown, MA
10:00am - 2:00pm
Wednesday, August 14th
Ames Free Library
53 Main Street,
North Easton, MA
6:30pm - 7:30pm
Saturday, September 7th
Olivia Browning
20 City Square
Charlestown, MA
11:00 am
Thursday, September 19th
Thayer Public Library
Washington St.
Braintree, MA
Time: 7:00 pm
Thursday - Sunday, September 19th-22nd
Boucheron Conference
Albany, NY
Saturday, September 28th
The Gift Garden
Milton Marketplace
Milton, MA
10:00 - 2:00 pm
Monday, September 30th
Charlestown Library
179 Main Street
Charlestown, MA 02129
6:30 pm
Tom's books, BEYOND THE BRIDGE and THE CHARLESTOWN CONNECTION are available in hardcover and all digital/eBook formats. THE CHARLESTOWN CONNECTION is now available in trade paper (978-1-933515-85-4, list retail: $15.00) as well.
Oceanview Publishing provided this synopsis of BEYOND THE BRIDGE:
"Dermot Sparhawk, a former all-American football star at Boston College, returns in BEYOND THE BRIDGE, the prequel to Tom MacDonald's award-winning debut novel, THE CHARLESTOWN CONNECTION.
In BEYOND THE BRIDGE, Sparhawk, a struggling alcoholic, agrees to help find the killer of an accused pedophile priest. When two more priests are slain in Boston's Charlestown neighborhood, it becomes evident that it is the work of a sadistic serial killer who crucifies his prey after killing them.
Sparhawk blazes an unconventional trail to the killer that puts him at odds with the very people he is trying to help and initiates a turf war with law enforcement.
He gathers a cadre of unlikely allies, including a parish priest, a police lab criminalist, the district attorney, and a state police lieutenant who help to rebuff attempts to derail him from the case. Then, with the help of his Micmac Indian cousin and his paraplegic tenant and former Boston College teammate, Sparhawk bulldozes his way to the truth, while putting his own life at risk."
To inquire about author appearances and speaking engagements, please contact David Ivester, davidi(at)oceanviewpub(dot)com.