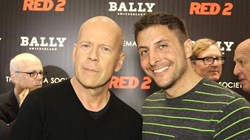 We plan to make the show an interactive web based program that will allow viewers to engage with their favorite performers.
New York, NY (PRWEB) August 07, 2013
The web-based celebrity interview show ArthurKade.com, featuring its on-air host Arthur Kade, has been acquired by East Coast film production company M Squared Entertainment. The show, now named #IntheLab with Arthur Kade, is produced in association with Internet Media Labs, a Manhattan based technology and new media company.
#IntheLab will continue to publish in the long format by interviewing the best and brightest from the world of movies, TV, music, and sports. #IntheLab is exclusively aired online, and has featured celebrities such as Bruce Willis, Howard Stern, and Marc Anthony. Interviews have been conducted at their home base of Contra Studios in Chelsea (NYC), on the red carpet and through the use of online social media technologies. Tom Molen, CEO of M Squared Entertainment, will continue in his role as Executive Producer. Sebastian Adolph, the show's Lead Producer will ankle his position. Mr. Molen will assume Mr. Adolph's position until a replacement is named.
"#InTheLab continues to evolve into the kind of show we envisioned when we first met Arthur," said Molen. "We plan to make the show an interactive web based program that will allow viewers to engage with their favorite performers. The combination of M Squared's film production experience and Internet Media Lab's social marketing technology will create a very unique experience. We will release more details over the next couple of months as we put the finishing touches on the show for a new fall launch."
"Celebrities have done a great job of adopting Twitter, but so much more can be done to personalize their fans' experiences with them." said Robert Moore, President & co-Founder of Internet Media Labs. "An integrated social strategy that utilizes our technology will make this a very unique approach to entertainment interviews. We are excited to power this particular use of our proprietary social media platforms." Internet Media Labs has ownership stake in the show.
About M Squared Entertainment
M Squared Entertainment was founded with a singular mission: to create quality original or adapted content for distribution across all mediums – Internet, television, and theatrical. While primarily focused on producing proprietary content, M Squared will be working with select clients to help them articulate their vision into new media and assist them in connecting that media with the right audience.
About Internet Media Labs
Internet Media Labs is a new media and technology company based in the heart of Chelsea, New York. IML builds technology solutions that help businesses manage and grow their social relationships more effectively. In addition to creating proprietary technology platforms, IML also has a rapidly growing social consulting practice called SociaLab, which provides social media management and strategy to a select group of clients.