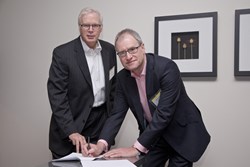 This partnership is a classic example of how the joining of two best-of-breed solutions creates exponential benefits to customers.
Chicago, IL and Sterling, VA (PRWEB) August 06, 2013
Workplace, an industry leader in cloud-based workforce management software, and Natural Insight, a private retail technology company providing retail task management solutions, today announced they have entered into a strategic partnership that jointly delivers powerful new workforce efficiencies for store operations. The partnership was officially announced by Workplace CEO, Barney Quinn, and Natural Insight President and CEO, Stefan T. Midford.
Workplace is now able to provide current and prospective clients Natural Insight's task management software in conjunction with its own cloud-based workforce management software. Similarly, Natural Insight will now offer Workplace Online, the cloud-based workforce management and labor forecasting solution. This partnership provides retailers with access to a new integrated suite of premium workforce management solutions, each of which would prove beneficial to retailers that want to use state-of-the-art cloud based solutions to increase efficiency, lower costs and most importantly improve customer loyalty and increase sales.
"This is an especially exciting and important partnership for Workplace," said Workplace CEO, Barney Quinn. "The similarities between our two companies are significant and by combining our innovative Workplace Online solution with their excellent task management solution, we can further support our clients looking for cost-effective solutions on the WFM front. There's natural synergy between the product offerings of each company and we fully anticipate this partnership will generate significant cross-selling opportunities for both Workplace and Natural Insight, while providing significant benefits to our customers."
Stefan Midford, Natural Insight President and CEO, related that "this partnership is a classic example of how the joining of two best-of-breed solutions creates exponential benefits to customers. For the first time, retail store operations have the opportunity to access a comprehensive and progressive technology solution that results in immediate savings and new-found efficiency."
Workplace Online is a cloud-based workforce management software solution, designed to enable retailers to forecast labor demand based on KPIs such as traffic and point-of-sale data. The forecast is used to produce optimized schedules that meet forecasted labor demand. With Workplace Online, retailers can be sure they have the right associates in the right place at the right time to maximize customer service and sales.
Natural Insight's task management software enables retail managers to track ongoing projects and view real-time status updates across their organizations. With Natural Insight, retailers can improve store communication, gather task data (including photos for visual verification) and focus on addressing the exceptions, instead of continually contacting stores for a status.
About Workplace Systems
Workplace is the leading supplier of workforce management solutions in the cloud. With over 26 years' experience in scheduling, forecasting and time and attendance, it is dedicated to making its clients' workforces simpler to manage. Workplace's cloud-based solutions enable organizations to create competitive advantage through improved productivity, visibility and control of costs, sales growth, more engaged associates and better customer service. Workplace's rapid implementation approach combined with its industry expertise and highly intuitive cloud-based solutions delivers a faster return on investment to its clients. With offices in the US, UK and Australia, Workplace clients include: Rite Aid, H&M, Next, Subway, Coral, Chelmsford Star Co-op, Metro Group, Wickes, Wireless Vision and World Duty Free. For more information please visit: http://www.workplacesystems.com.
About Natural Insight
Natural Insight is a private retail technology company with an innovative, cloud-based platform that significantly improves sales, reduces overhead and provides real-time workforce activity feedback that motivates high performance. The solution improves an organization's ability to make superior business decisions and provides real-time task management capabilities with extensive tools for workforce communication and remote data collection. Natural Insight customers experience rapid work verification, improved accountability and increased accuracy that empowers managers to coordinate the activities of a larger number of workers with significantly less effort. Visit http://www.naturalinsight.com.