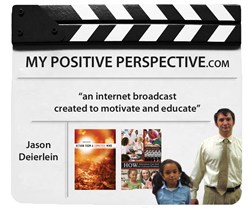 We need to make the public more aware of the good intended people and organizations out there.
Charleston, SC (PRWEB) August 06, 2013
On August 5, 2013, My Positive Perspective host Jason Deierlein aired an episode with fellow Kinetic Hifi host Brian Shirley. Shirley is the host of a program on Kinetic Hifi called the BTS radio show. The program comes on before Deierlein's show, My Positive Perspective. Both shows air on Wednesday and feature local music as well as funny bits by the two program hosts.
During the episode, Deierlein asked Shirley, "What makes your radio show unique and stand out?" Shirley responded to the question saying, "The BTS radio show is pretty new and my vision for the show is to bring comedy clips and interviews along with music that is not often heard on the standard radio. I play the B sides of songs one doesn't hear on the radio." Shirley continues, "I just had an author on my show that had a heart transplant a year ago."
The episode changes tone a little when Shirley says, "It's a real cool thing having these things planned in my head and actually seeing them come to fruition." Deierlein responds to this statement saying, "What we are trying to do is become g ate keepers. Both of us are trying to help talented people get more noticed." Deierlein concludes this thought saying, "We need to make the public more aware of the good intended people and organizations out there."
My Positive Perspective is a media outlet believing that improvement in our community will be best achieved by focusing on the good things happening in our world today. Having survived a near fatal car accident as a youth, a shift of perception forced one to have a mentality of always concentrating on the brighter sides of things. This was true, and in my book, Return From a Comatose Mind, this belief was put to the test. Appreciation for life was the biggest thing one took away from my brush with death, and it is because of that gives me such a huge desire to be helpful to many. My Positive Perspective is a way of overcoming challenges.