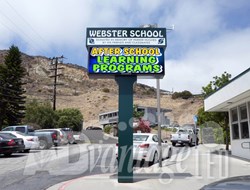 The longevity of the sign makes this a wise purchasing decision in every way.
Malibu, CA (PRWEB) August 12, 2013
ADvantage LED Signs completed the installation of a School LED Display for Webster Elementary School in Malibu, California and the school is thrilled with the results. This 2'-10-1/2" x 7'-5 5/8" 12.5mm iPixel full color 64x176 single face display increases communication and awareness for the school by displaying school events, registration dates and special birthday messages to staff and students along with community events for Malibu.
"The addition of a school sign such as this allows the community to become more aware of and involved in school activities as they announce events in real time. In addition, parents become more aware of what is happening within the school as children aren't always reliable messengers of information. Another benefit of choosing a sign of this type is the professional image it displays to the community. A well-kept school is a sign that the children are learning and thriving, and LED signs improve the appearance of any building," Richard James of ADvantage LED Signs states.
Dennis Chavez of the Santa Monica School District agrees, stating, "This is the first full color sign for the school so everyone is very excited. This sign was donated by the students and school in memory of one of their students and is a nice addition to the school which will stand for many years to come. Schools are now turning to LED signs as they are easier to manage; content changes take very little time and the risk of vandalism decreases significantly with signs of this type. In addition, schools save money as fewer items must be sent home via paper products, which benefits the environment. "Everyone wins when this type of sign is selected," according to Dennis.
The sign meets the school's expectations in every way and the school district was thrilled to partner with ADvantage LED Signs for yet another LED display. The sign allows the school to better connect with the community as this is exactly what has happened with other ADvantage LED signs the district has installed. The benefits have been enormous at the other schools and the districts expect nothing less with this recent installation. As a result of the success the district has had with ADvantage LED's signs, Chavez says they definitely recommend ADvantage to anyone in need of an LED sign for their business, school or organization. He adds, "The longevity of the sign makes this a wise purchasing decision in every way."
ADvantage LED Signs offers LED sign and identification sign manufacturing for businesses, organizations and schools of all sizes. In addition to manufacturing the signs, the company handles installation and trains clients in the software used with the sign display. For those struggling with content creation, ADvantage LED Signs staff members can be of assistance, and technical support remains available for the life of the sign. "ADvantage LED Signs strives to meet client needs at every stage of the process, from the initial contact until the sign needs to be replaced, which explains why clients turn to our company for all of their signage needs," Mr. James declares.
About ADvantage LED Signs
Established in 2009, ADvantage LED Signs manufactures LED signs and billboards, selling direct to organizations and businesses nationwide. ADvantage LED Signs offers total turn-key solutions, stating that no job is too big or too small for their company. An A+ Better Business Bureau accredited company, ADvantage LED Signs has become known for their expertise and quality, unmatched by others in the industry. Signs provided include restaurant, retail, medical office, car wash, government and more, both in full and single color. ADvantage LED Signs is a subsidiary of Vantage LED, a family of companies based in California.