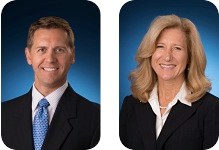 "The hiring of Mark Meleski and Susan Stover reflects our ongoing commitment to helping our almost 1000 federal contractor clients grow their government business." - Gary Loyd, CEO
Chantilly, Virginia (PRWEB) August 06, 2013
Two experienced executives have joined Centurion Research Solutions, the fastest growing provider of federal business intelligence and analytics. Mark Meleski is the new Vice President of Strategy and Business Development (BD) and Susan Stover is the Vice President of Sales and Marketing.
Mark Meleski (email: mmeleski(at)4centurion(dot)com) has nearly 20 years of experience as an accomplished, data-driven, business professional with a unique blend of business development and technology acumen. Mr. Meleski leads Centurion's strategic vision on several internal and external fronts with a focus on business development and company growth through innovative technologies, partnerships and analyses.
Prior to joining Centurion, Mr. Meleski directed advanced analytics and generated strategic partnerships in both domestic and international markets within the fast-paced and highly competitive Internet, Telecom, and Information & Analytics industries. He has worked with firms such as MCI, XO Communications, AOL Time Warner and Neustar. Mr. Meleski has also worked closely in global operation capacities supporting various DoD agencies.
Mr. Meleski holds an MBA from American University in Washington, D.C. and a BA degree from Southern Connecticut State University in New Haven, CT.
Susan Stover (email: sstover(at)4centurion(dot)com) brings 25 years of marketing, sales, and channel management experience to her leadership position as Vice President, Sales & Marketing. Ms. Stover manages the team responsible for driving sales of the iNOW™ Series of products as well as strategic marketing campaigns aimed to create brand awareness and lead generation.
Prior to joining Centurion, Ms. Stover was Director of Public Sector Marketing at Juniper Networks and had responsibilities which included the development of strategic marketing, demand generation, thought leadership, and channel marketing programs. Ms. Stover has had an extensive career in the Information Technology and System Integrator community working in various marketing, sales and channel management positions at Juniper Networks, Enterasys Networks, Federal Sources, General Dynamics, and Lockheed Martin. Ms. Stover is a graduate of National Louis University with a BS in Business Management.
Centurion's CEO, Gary Loyd, said, "Mark and Susan reflect our ongoing commitment to helping almost 1000 federal contractor clients grow their government business."
About Centurion
Centurion Research Solutions, founded in 2003, is a business intelligence and analytics company with a simple mission -- to offer innovative solutions that help federal contractors efficiently win more government business. To achieve this mission, Centurion has been providing online, subscription-based services, custom research and analysis, tools and methodologies, professional services and in-depth training. Industry leaders such as Alion, Northrop Grumman, SAIC, Lockheed Martin, BAE Systems, InDyne, CACI and Raytheon rely on Centurion's solutions, thought-leadership and expertise to help them identify and analyze relevant opportunities to win more government contracts.