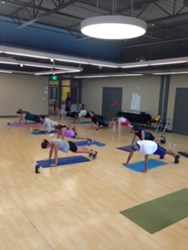 'This has been an awesome team to push me to get back in shape.' - Artemio Vazquez
Austin, TX (PRWEB) August 07, 2013
Fitfanatic Wellness LLC along with The Austin Area Independent Beachbody Coaches are pleased to announce our new 512 Fit Club name and location.
The Awesome Austin Fit Club just celebrated its 1 year anniversary and regularly has around 20 fitness enthusiasts from all fitness levels pushing play and making a difference each week. Due to the success of the program and the desire to offer these services to a wider group of people, a second location has been added at 3201 Bee Caves Rd., #152 Austin, TX 78746. "This strategy brings the local Fit Clubs under one name with multiple locations making it easier for participants to find us." Reported, Karan Duncan, Independent Beachbody Coach and owner of Fitfanatic Wellness LLC.
The Austin Area Independent Beachbody coaches have united to provide people who might generally workout solo an opportunity to meet like-minded people with the sole purpose of putting an end to the trend of obesity with Fit Clubs. The environment is high energy and allows members an opportunity to get introduced to cutting edge fitness programs. Each week participants get to sample something new from the Beachbody collection of fitness videos including Tony Horton's P90X series to Shaun T.'s new FOCUS T25 and Insanity. Fit Clubs are generally 100% free and open to all fitness levels and offer great support.
For many people working out in a group gives them just that extra edge they need to push them through the workout. Artemio Vasquez, a frequent Fit Club participant commented, "This has been an awesome team to push me to get back in shape." Christian Uma who is becoming a Fit Club regular says, "I come to strengthen my core to help my recovery from a back injury." No matter what the reason, participants are likely to find the motivation they need from the strong network the group provides.
Coach Suzanne Miller, a key motivator for one of Austin's successful Fit Clubs, credits community strength and belonging. "Fit Club provides members of the Austin community an opportunity to get exposed to Beachbody products and community. It is amazing to see how the Fit Club has evolved this last year. Beachbody has been a wonderful blessing in my life and Fit Club is just one way to share the benefits of using the products and being involved."
512 Fit Club Northwest meets Wednesday Nights 7:00 at the Northwest Recreation Center, 2913 Northland Dr. Austin, TX 78757
512 Fit Club 360 meets Thursday nights 6:30 at the Texas Physical Therapy Specialist building, 3201 Bee Caves Rd., #152 Austin, TX 78746
Fitfanatic Wellness LLC offers in person and virtual personalized training and coaching services to help busy people realize their health and fitness goals. Additionally, Fitfanatic Wellness LLC presents workshops, webinars and lectures on living a healthy lifestyle. If you are interested in learning more about how to bring a Fit Club to your community, please contact Brad Duncan (512) 844-4260 brad(at)fitfanaticwellnes(dot).com.