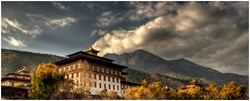 These are the REAL Highlands thousands of feet above sea level in the Himalayan Kingdom of Bhutan.
New York, NY (PRWEB) August 07, 2013
"Whisky connoisseurs and Whisky Masters love K5 Premium Himalayan Whisky from the Kingdom of Bhutan and our shipments so far have sold out before they even arrive in the U.S. We're only now have available product for direct consumer purchase but K5 is a limited production product," says James Fitzgerald Chairman and CEO of Spirits of Bhutan, the exclusive marketing agents for K5 Premium Spirit Whisky.
"People who have tried K5 who say they don't or don't normally drink whisky including women (who aren't traditionally thought of as whisky drinkers) are giving K5 a thumbs up because it's gentle on the palate and has a slightly sweet taste that really makes it quite different," Fitzgerald added.
K5 is sold in 750ml bottles and retails at $49.99 online at http://www.SpiritsofBhutan.com and is distributed by Duggan's Distillers, Blauvelt, New York. K5 is available in New York at The Brandy Library and Ambassador Wines & Spirits and other bars, hotels and restaurants in the NYC metro area.
The Kingdom of Bhutan is considered one of the world's last Shangri Las situated thousands of feet above sea level. It is known most for its clean and crisp air and water and measuring their quality of life in terms of Gross National Happiness (GNH) versus Gross Domestic Product (GPD). Bhutan sums itself up as "Where Happiness Is A Place."
For further information contact:
James Fitzgerald, Chairman and CEO
Spirits of Bhutan, New York
JHF(at)SpiritsOfBhutan(dot)com
1-855-4 K5 Bhutan (1-855-484-2844)
http://www.SpiritsOfBhutan.com