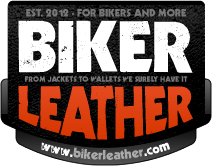 2013 Sturgis Motorcycle Rally
(PRWEB) August 05, 2013
Riding all the way up to Sturgis Rally is a really magnificent way to spend time with family, friends, or make new friends along the way. However, BikerLeather.com is here to help reduce depression of many of those who can't join the 2013 Sturgis Motorcycle Rally. BikerLeather.com has slashed their pricing on items ranging from saddlebags, helmets, vests, all the way to patches. Don't wait; take a look at BikerLeather.com inventory and have a look at PVC motorcycle saddlebag with chrome plate that is currently on sale. The saddlebag was $89.99 and now it is $59.95 for the 2013 Sturgis Motorcycle Rally week only.
BikerLeather.com has everyone covered with special pricing on motorcycle helmets. BikerLeather.com is offering same pricing online on helmets as at the 2013 Sturgis Motorcycle Rally. The sale includes spiked flat black german novelty helmet.
Denim vests are out of style this year, but check out BikerLeather's men's bubble vest with two outside pockets and one inside pocket with zipper. The original price is $79.99, but for Sturgis Motorcycle Rally, BikerLeather.com has slashed the price to $19.99 due to overstock. The vest is made out of soft genuine Leather.
How many times do stores have low prices on patches but high shipping price? It happens a lot of times, but at BikerLeather.com the prices on patches are lowered to $1.99 from $4.99 and the shipping option is a flat rate shipping. This special won't last long, don't wait, and get a jump on 2013 Sturgis Motorcycle Rally savings early. We guarantee same day shipping on all items purchased during Sturgis Motorcycle Rally.