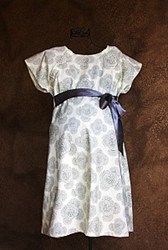 West Des Moines, IO (PRWEB) August 06, 2013
Bliss Baby & Maternity carries a variety of Maternity Hospital Gowns to include the very comfortable BG Birthing Gown and the disposable gown by Pretty Pushers, plus a variety of other Labor & Delivery Gowns. Many women that are going to the hospital to deliver their baby don't want to experience the "ugly" hospital gown, that numerous hospital patients have worn, when giving birth and for pictures right after. Giving birth is one of the most beautiful things a woman will do and many women want to look pretty and feel comfortable. The gowns offered at Bliss Baby & Maternity are smart, soft, and stylish alternatives to the unisex hospital gown for modern labor and delivery. Why wear a stiff, scratchy hospital gown on one of the most important days of a lifetime? Having a special gown creates a new option for moms in labor. The gowns are pretty, functional and one of them is even disposal which makes it very cost effective. These gowns are made with the options of easy access for doctors and nurses to be able to monitor baby and mom. Easy access snaps and openings make fetal monitoring a breeze.
Many women are bringing their own labor and delivery gowns to the hospital. They feel better in their own clothing and have a nice, pretty gown for the first pictures of mom and baby. These can also be worn after having baby, for easy access for doctors and nurses. The current hospital gowns that most hospitals have don't allow for access for IV's, fetal monitors, and epidurals.
All of the gowns Bliss Baby & Maternity carry offer style, comfort, and functionality all in one with smart design and 100% of its manufacturing done in the USA. These gowns will fit well into most budgets and the gowns are great for after baby for easy access nursing in the middle of the night.
Any of the gowns are great gifts for a mom to be or a baby shower gift and anyone would truly appreciate. Feedback from customers when giving as a gift is that the person they purchased it for "loved it".
Bliss Baby & Maternity has a large variety of Maternity Labor & Delivery Gowns to choose from so visit today.