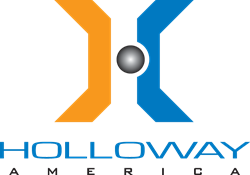 HOLLOWAY strives to set the standard for pharmaceutical equipment.
Springfield, MO (PRWEB) August 07, 2013
HOLLOWAY AMERICA will participate in the ISPE San Diego Chapter 21st Annual Vendor Night Exhibit Show. The table-top show will take place August 8, 2013 at the Hilton La Jolla Torrey Pines in La Jolla, California. Throughout the show, HOLLOWAY Vice President of Field Services David Lipsky will be onsite at the fabrication company's display booth to answer questions about their products and services. Lipsky stated that he looks forward to the evening: "HOLLOWAY crafts sanitary tanks, manways and many other components that benefit the pharmaceutical industry. I always enjoy the opportunity to connect with our industry peers and discuss what HOLLOWAY can fabricate for them, either in our facility or on the customer's site."
Admission to the show is free, and the vendors will be on hand from 4:00-7:00 pm. The Vendor show will be preceded by a Facilities Managers Panel from 2:00-4:00 pm, when some key personnel will have time to visit and discuss industry trends. This year, the chapter's Vendor Night will have a nautical theme, called "America's Cup", and prizes will be awarded to the Best Theme Dressed Attendee.
Lipsky and other HOLLOWAY representatives will be available at booth P27, next to the entrance and registration area. The custom steel fabrication company will feature its FASTMOUNT™ as well as its FASTMOUNT™ Adapter, which is the only ASME-code certified pipe flange adapter that can quickly connect TriClamp® equipment to NA-Connect® and H-CONNECT™ mounting flanges with ease. Also featured in HOLLOWAY's display will be their new Seal Break Pliers, which allow people to easily separate process connections from gasket seals without causing damage to pressure vessels and fittings, thus helping prevent process contamination.
HOLLOWAY will also feature a variety of tank components used by the pharmaceutical industry as well as provide event attendees with information about how on-site fabrication and other YOURSITE™ Field Services can help pharmaceutical companies. HOLLOWAY's ability to provide on-site stainless steel fabrication services extends its customers' capabilities by broadening their options for repairing, retrofitting and customizing their pharmaceutical machinery, creating one-of-a-kind solutions.
Lipsky noted that HOLLOWAY makes products specifically for biopharmaceutical and pharmaceutical processing. Crafted from pharmaceutical stainless steel, Lipsky said, "our process tanks, H-Series Manways and other components ensure cleanability that pharmaceutical manufacturers can rely on." He added that HOLLOWAY strives to set the standard for pharmaceutical equipment and that more than 10,000 H-Series Manways serve the pharmaceutical and beverage industries today.
Lipsky also stated, "The 2013 ISPE San Diego Chapter Vendor Night will be an excellent opportunity for professionals in the pharmaceutical industry to discover some of the latest products from HOLLOWAY and other respected vendors."
For more information on custom steel fabrication, tank components, pressure vessels and fittings, or for more information about the ISPE San Diego Chapter 21st Annual Vendor Night Exhibit Show, contact HOLLOWAY AMERICA at 417.863.0077 or by email at info(at)HollowayAmerica(dot)com.