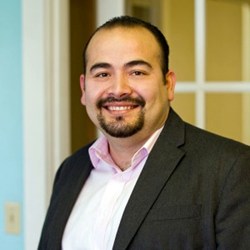 Anthony is able to draw on all of his experience to help our clients achieve their dreams. - Mike Schmidt, CEO Anchor Wave
Tucson, Arizona (PRWEB) August 07, 2013
Anthony Rivera, VP of Web Strategy at Anchor Wave, has been named as one of the '40 Under 40' winners for 2013. Co-hosted by the Tucson Hispanic Chamber of Commerce and the Arizona Daily Star, the award recognizes young leaders who are making an impact in the community through both their business and charitable contributions. The awards ceremony will take place in Tucson on October 2 from 7-9am at the Doubletree by Hilton at Reid Park, 445 S. Alvernon Way.
Rivera, 35 and a Tucson native, studied computer science at the University of Arizona, after which he took a computer technical support position at Intuit. An early devotee of the World Wide Web, Rivera successfully developed websites for internal groups at the company to facilitate previously cumbersome processes, and, with Intuit's decision to fully embrace the new phenomenon of Social Media, created the team to make it all happen. In two years, Rivera and his team were able to grow a 20,000-member community into a thriving 250,000-member social network. Rivera became an expert in online communities by playing a strategic role in leveraging search engine optimization and internet marketing.
In August of 2008 Rivera joined Anchor Wave as Website Strategist. "In this role Anthony is able to draw on all of his experience with Tucson Web Design to help our small business clients achieve their dreams," says Mike Schmidt, CEO of Anchor Wave. "Given a blank slate to build the processes to help our clients get more out of their websites, Anthony created a new division for Anchor Wave which helped drive a 53% growth in revenue. More importantly, it helped Anchor Wave's clients to succeed." Rivera enjoys being constantly rewarded by the dramatic impact his role plays in his clients' success and continues to find new and innovative ways to push the envelope. He plays a strategic role in guiding Anchor Wave towards becoming the industry leader in Internet marketing and website design. Some recent examples of Rivera, and Anchor Wave's, work include: http://CasaHospice.com, http://www.RandaCPAs.com and http://ModularMining.com/.
Anchor Wave Internet Solutions, celebrating 10-years of success is located at 245 S. Plumer Ave., Suite 3, Tucson, Arizona 85719. They can be reached at 520.622.3731 or http://www.AnchorWave.com/.