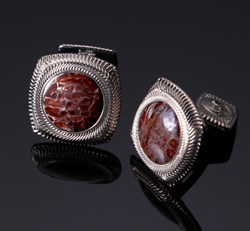 Imagine being able to tell that story; that the cufflinks you are wearing today were here at the dawn of mankind
McMinnville, OR (PRWEB) August 06, 2013
Luxury men's accessory brand William Henry delves deeper into the accessory world with the launch of their first ever cufflink collection. Inspired by the modern man who desires accessories imbued with both utility and exclusivity, the cufflink collection features many of the exotic materials and design techniques that are the hallmark of William Henry's collections of fine functional jewelry.
For 15 years, William Henry has been redefining the luxury accessories world for men by turning functional tools such as pocketknives, money clips, golf tools and writing instruments into precious personality statements and inimitable expressions of personal style. Designed with mechanical and tactile excellence, the cufflink collection is a testament to William Henry's quest for perfection. Paying careful attention to moving mechanisms, durability and striking appearance, each cufflink is made of sterling silver with a distinctive bezel and innovative spring-loaded toggle closure. Once cast, each cufflink receives a gold, platinum or ruthenium finish.
Striking design, gorgeous materials and timeless workmanship are combined in this superlative addition to William Henry's critically acclaimed lineup. The collection is comprised of 10 distinct styles, which feature 100,000 year-old fossil coral, carbon fiber, and mesmerizing inlays made from fossil Woolly Mammoth tooth and dinosaur bone (the only remaining legacy of an Apatosaurus that walked the earth 100 million years ago). Other styles include mother of pearl, carbon fiber, lapis lazuli, and Mokume Gane (the rare forging technique originally developed in Japan to create decorative fittings on samurai swords and other fine tools).
"Each of the pieces we conceive and create must be flawless in function and superior in artistry," says Matt Conable, founder and creative engine of William Henry. "There's more: our collections are not only made of precious and stylish instruments, they're also immediately distinctive and rare objects, imbued with the personality and individuality that strike a personal chord with their owners."
At a time when men's purchases of jewelry grows at almost twice the pace of women's, William Henry's cufflink collection represents a new and distinctive choice that allows men to own an elegant and yet truly original personality statement. As Conable puts it, "Imagine being able to tell that story; that the cufflinks you are wearing today were here at the dawn of mankind."
Designed for a lifetime, built with precision and passion, William Henry's cufflinks are available for purchase today and range in price from $250 to $550.
William Henry products are available at http://www.williamhenry.com and at over 400 independent retailers across the country and abroad.
###
About William Henry
William Henry is an American luxury brand devoted to the vision of designing and creating superlative functional jewelry. Designer and entrepreneur Matt Conable founded the company in 1997 and is now the sole owner. Conable first established the brand creating exclusive and award-winning pocketknives, effectively transforming the archetype of all tools into a superb piece of functional jewelry for men. Today's collections also include cufflinks, writing instruments, money clips, and golf tools.
The seamless integration of classic natural materials, precious metals & gemstones, and state-of-the-art alloys is a hallmark of William Henry's work. The brand creates limited editions only, and no two pieces are ever replicas. William Henry's collections are available on its website and through a select network of authorized retailers in the US and abroad. For more info on WH visit williamhenry.com.