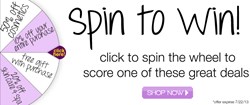 "It's so thrilling because I never know when the sales are coming and they always have such great offers."
(PRWEB) August 06, 2013
There's no denying that at one time or another everyone has thought to themselves "is it Friday yet?" on a Tuesday. We are smack in the middle of Summer and the plethora of BBQ's, pool parties and vacations makes it easy to celebrate. TheBeautyPlace.com has given everyone yet another reason to countdown to the weekend, with its weekly sales of Free Stuff Fridays for Facebook fans and unbeatable blowout Saturday sales.
TheBeautyPlace.com's new, revamped marketing department uses advanced techniques to segment customers based on their purchase history, and even allows customers to earn "VIP status" giving them access to even deeper discounts. It is as simple as signing up for their monthly newsletter to be the first to know which of their beauty brands they're putting on sale next. This innovative sales tactic gives every type of customer the opportunity to get all their favorite products for less than anywhere else. Whether it be taming hair or growing hair, acne or anti-aging, there is a guaranteed sale for everyone. In addition, brand new subscribers get a discount automatically at sign up.
Each month with the release of the newsletters, special days are outlined with definite sales. The rest of the months promos are a surprise. In June, the monthly newsletter offered the "countdown to summer sale" in which the week leading up to the official start of Summer, a different summer product necessity was debuted at a special sale price. August will get help to get everyone back to school in style.
The creativity and individuality of each sale makes it fun to be informed. Recently, Free Stuff Fridays gave customers the opportunity to vote for their favorite Hair Spray and were placed in an automatic raffle. The lucky winner won Sexy Hair Spray & Play Harder Firm Hairspray which comes in handy in the summer with its anti-humidity formula. Following the hairspray giveaway, TheBeautyPlace.com sprung the weekend off with a "find it to win it sale". A top seller product was hidden amongst other products on the website and subscribers participated in finding it for a chance to win it free, no purchase necessary.
Among their creative sales are "Beat the Clock" and "Spin It to Win It". The "Beat the Clock" sale coming up this week, gives customers a special code (percentage off total purchase) that will decrease in value as the clock moves closer towards the end of the sale. "Spin It to Win It" was one of the most popular sales with its digital wheel that landed on a special code giving customers a percentage off of their total purchase. One customer said "it's so thrilling because I never know when the sales are coming and they always have such great offers."
The broad range of sales gives every Beauty Place customer a reason to celebrate. Finally, people can purchase their favorite products at prices they can afford.