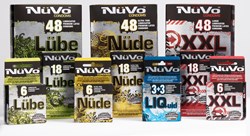 New York NY (PRWEB) August 06, 2013
NüVo is committed to getting the word out on the positive aspects of condom use and safe sex practices. When we learned that Simon Cowell the ex American Idol judge and current judge on the X Factor allegedly impregnated his friends wife according to The Atlantic Wire (http://www.theatlanticwire.com/entertainment/2013/07/lindsay-lohan-free/67817/), we thought is was a good time to send him some protection. NüVo sent Mr. Cowell a gift of condoms to help him practice safe sex in the future.
NüVo's mission is to create awareness for greater safe-sex practices. "I see stories like this and view it as an opportunity to bring to light the positive aspects of condom use," says Behn Goldis, Director of Marketing and Promotions at NV Healthcare LLC, which owns NüVo Condoms. Unprotected sex is a growing problem and we at NüVo Condoms are committed to curbing this trend by getting condoms out to those who need them, and providing extreme value on our brand whenever people buy it.
About NüVo Condoms:
NüVo Condoms is the challenger brand that is making a bang in the condom industry. The urban, edgy packaging promotes NüVo's message of having a positive, fun yet responsible approach to sexuality and sexual relationships. NüVo is committed to making an impact on unwanted pregnancy and the recent rise in STD's by making condoms available to anyone who needs them at a competitive price.
NüVo Condoms deploys a number of grassroots programs to get the word out about having fun in a safe and responsible manner including: sponsorships, concerts, tailgates, philanthropies and distributing over 500,000 free condoms in 2012 alone. Additionally, NüVo has helped celebrities and athletes such as Justin Bieber, Ashton Kutcher, Jim Thome, Tom Brady and more, stay protected during their "times of need" by providing a generous supply of NüVo Condoms.
NüVo Condoms sponsored the first ever wedding at NYC Pridefest 2013. The NüVo Protection Plan has helped NFL quarterbacks, who got sacked the most every week, stay safe and protected with a free supply of NüVo condoms. NüVo Condoms can be purchased in Duane Reade stores, select Walgreens stores, USA Drug, Navarro, Fred's and regional retail drug chains. Online at Walgreens.com, CVS.com, drugstore.com and amazon.com.
NüVo Condoms are manufactured by NV Healthcare, LLC.
For more information on NuVo condoms, please visit: http://www.nuvocondoms.com .