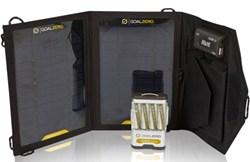 If you would like to talk to a real expert that uses the products they sell then simply call us at 866-586-7129
Bozeman, MT (PRWEB) August 08, 2013
Suunto Ambit 2 Sapphire has been added to the August promotion at the Heart Rate Watch Company and will also receive a complimentary Goal Zero Guide 10 Plus Mobile kit solar charger, just like the Suunto Ambit 2 models.
"At first we intended to offer the Goal Zero with just the Suunto Ambit 2 but customers were requesting them with the Ambit 2 Sapphire so we decided to make it an even playing field," says Squire. He adds, "These are two of the best GPS sports watches anywhere on the market today and are hands down the most durable."
"The Goal Zero solar charger is the ideal companion for the watch, making it useful for weeks at a time off the grid, plus it can charge all your other portable electronics," says Squire.
SAME GREAT FEATURES
Both the Suunto Ambit 2 and the Suunto Ambit 2 Sapphire offer all the same apps, memory, battery life, advanced heart rate features and sports alternatives according to Squire. He adds, "The main difference is the Sapphire crystal, which is virtually indestructible, and the fancier punched bezel."
"Both Suunto Ambit 2 versions have more memory and can run 5 apps concurrently, while the first Ambit could run only one app at a time," says Squire. He adds, "We've tested a lot of new GPS watches this year but the Suunto Ambit 2 and the Sapphire are by far our favorites, with the exception of triathlon where we would choose a Garmin Forerunner 910XT."
TWO COMPLIMENTARY FITNESS BOOKS
The Heart Rate Watch Company is further offering two complimentary fitness e-books entitled "How To Successfully Use A Heart Rate Monitor" and "How To Elevate Fitness With Strength and Interval Training" to all customers during the August promotion.
BETTER WARRANTY and ADVICE
"We've used the Suunto Ambit watches personally for over a year now and know them very well," says Squire. He adds, "We also warranty same day out of our own stock instead of making you wait weeks going through the manufacturer like others do."
"If you would like to talk to a real expert that uses the products they sell, then simply call us at 866-586-7129," says Squire. He adds, "This is why we have so many good customer reviews; we know the products and fitness very well."