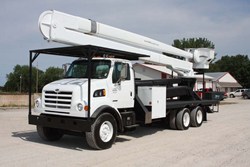 Colona, IL (PRWEB) August 06, 2013
I-80 Equipment is in the business of equipping customers with top-notch used bucket trucks. Buying used can save thousands of dollars. Let I-80 Equipment do the searching for you. Doing this allows customers to rest assured they are getting a quality truck at a great price. I-80 Equipment proudly announces new inventory including:
Altec AM855-2003 Freightliner FL80 4x4 Bucket Truck
Altec AM855-2003 International 4300 Bucket Truck
Altec AT37G-2006 International 7300 4x4 Bucket Truck
Lift-All LTAF-36-1E- 2008 Ford F-550 Bucket Truck
SkyTrim 75G2- 2008 Kershaw 4x4 Forestry
Terex Hi-Ranger XT 60- 2004 Ford F-750 4x2 Forestry Truck
I-80 Equipment will search far and wide for the best used bucket trucks and negotiate the best prices. Then they will take them to their shop and start the reconditioning process. First, they will take off anything that is obviously broken or rusted and prepare the truck for a fresh coat of paint. Next, they will degrease and power wash it. The truck is then sandblasted. After that, the truck is primed, painted and finished. Finally, it is reassembled and goes through a mechanical inspection. The finished product is a truck that looks and runs like new at a used truck price.
I-80 Equipment has a huge selection of used bucket trucks in stock and new ones are coming in every day. Check their inventory to see if they have what you're looking for. If they don't have it, let them know. They'll find it for you.
I-80 Equipment sells bucket trucks to companies that often use logos or custom paint jobs on their fleets. Customers just let them know their customizing needs and they will have it ready for business when the vehicle is delivered. Call today or better yet, stop by for a visit. I-80 will buy customers a one way plane ticket, give you a tour of their facilities and show off their complete stock of used bucket trucks.