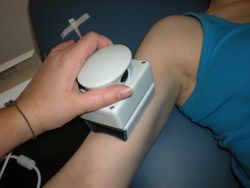 "This new study is an important step in the ongoing research around treatments and cures for FSHD," said Daniel Paul Perez, President & CEO of the FSH Society.
Lexington, Massachusetts (PRWEB) August 06, 2013
Today, the FSH Society, a Massachusetts based non-profit that is a world leader in combating facioscapulohumeral dystrophy (FSHD), announced that it has awarded a $48,909 research grant to Dr. Jeffrey Statland, University of Rochester Fellow and Senior Instructor in the Department of Neurology. The grant will fund Dr. Statland's evaluation of electrical impedance myography (EIM) as a tool for quantifying the muscle structure of FSHD patients. EIM offers a portable, quick and easy way to measure muscle changes in FSHD patients. The EIM tool was developed by Seward Rutkove, MD, and is manufactured by Convergence Medical Devices which is based in Boston, Massachusetts.
FSHD, one of the most prevalent types of muscular dystrophy, is a degenerative muscle disease that causes progressive weakness, usually starting with the face, shoulder and arms, but which can affect almost any skeletal muscle. FSHD affects approximately 500,000 people worldwide and between one and two percent of the population carries a genetic trait that places future generations at risk of the disease. Currently, there is no treatment.
"We are thrilled that the FSH Society continues supporting the development of new clinical outcomes for future FSHD clinical trials," said Dr. Statland. "This is an exciting time for FSHD research. Recent breakthroughs in our understanding of the molecular pathology of FSHD identified future therapeutic targets – so developing efficient, high quality outcomes is a priority for the FSHD research community."
While EIM technology is already commonly used in body composition measurement devices, it is considered a new tool for neuromuscular disorders. By applying this measurement technique to FSHD, clinicians could potentially identify muscle changes in patients before the muscles atrophy and weaken. EIM would also offer a way to document changes in muscles characteristically affected by FSHD which are not captured by traditional strength testing, such as facial muscles.
"This new study is an important step in the ongoing research around treatments and cures for FSHD," said Daniel Paul Perez, President & CEO of the FSH Society "The grant will enable Dr. Statland and University of Rochester researchers to further develop their FSHD clinical trial tool-kit and expand current research efforts, bringing us closer to finding cost-effective treatments for FSHD."
Dr. Statland and his team plan to recruit 20 participants with FSHD for four visits over 12 months of follow-up to test the reliability, validity and initial responsiveness to change of EIM in FSHD. They are seeking patients with genetic confirmation that are clinically affected by the disease and can walk. Patients with these qualifications that are interested in participating can contact Colleen Donlin-Smith at 585-275-7680 or Colleen_Donlin-Smith(at)urmc(dot)rochester(dot)edu.
The EIM pilot study will serve as a structural correlate for a FSHD observational study already underway at the University of Rochester Medical Center. Dr. Statland, in collaboration with Rabi Tawil, M.D. and experts at the Fields Center for FSHD and Neuromuscular Research University of Rochester Medical Center, received a prior grant of $55,597 for this study from the FSH Society in January 2013 to evaluate the reliability and concurrent validity of disease-specific patient reported outcome and evaluator administered functional rating scale.
# # #
About the FSH Society
The FSH Society, founded in 1991 by two FSHD patients, is a world leader in combating muscular dystrophy. The non-profit has provided millions of dollars in seed grants to pioneering research worldwide, creating an international collaborative network of patients and researchers. The FSH Society seeks to serve as a source of information and support for all patients and families with FSHD; act as a driving force in the development of research directed towards treatments and ultimately a cure; and bring support to patients and research for FSHD through effective engagement of governmental and private sector organizations and entities. For five consecutive years, the Society has received the Charity Navigator's four-star rating, the highest distinction held by less than four percent of non-profit organizations in the country. The FSH Society offers a community of support, news and information for FSHD patients and families through its website at http://www.fshsociety.org. For further information about FSHD, please contact the Society at 781-301-6649.
Media Contact:
Victoria Khamsombath
SHIFT Communications
617-779-1828
FSHSociety(at)shiftcomm(dot)com