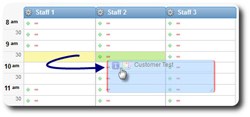 Time management is a key pillar to successful business practices.
Scottsdale, AZ (PRWEB) August 05, 2013
Large companies rely on efficient procedures to operate successfully and profitably. The task of rescheduling appointments, however, has typically not been one of them.
In fact, ineffective rescheduling processes can cost up to 20 hours weekly in lost staff time.
Appointment-Plus online scheduling software has the remedy for this operational ill: enhanced Drag & Drop functionality.
The new feature enables Appointment-Plus clients to grab a scheduled appointment with their mouse cursor, drag it onto an available time slot, and drop it in. The new appointment time is instantly confirmed in a matter of seconds.
"Time management is a key pillar to successful business practices," said Stephen Booze, CIO of Appointment-Plus. "Drag & Drop eliminates the manual process of canceling an appointment and reentering it in a new time slot.
"By utilizing this new functionality, our enterprise clientele will improve productivity and run their organizations more profitably."
Initial client feedback from large organizations that experience a high volume of daily appointments—such as universities and auto dealerships—has been very positive. This latest, breakthrough addition to the scheduling industry's leading enterprise suite of services is a true time-saving benefit.
"It really helps when you've got a schedule that's constantly moving around," posted an elated client on the Appointment-Plus Knowledge Base. "Thanks so much for this!"
Learn how Appointment-Plus online scheduling software can grow your enterprise. Call 888-772-6746.
#
About: Appointment-Plus is a Scottsdale, Arizona-based SaaS company and one of the 2013 CareerBuilder Top Companies to Work for in Arizona. They provide over 16 million people access to their online business management software, which specializes in appointment scheduling for customers, staff and resources.
For media and online journalists: Interested in interviewing our executives regarding future business-to-business online software technology or quotes for guest articles? Please email us at erichard(at)appointment-plus(dot)com.