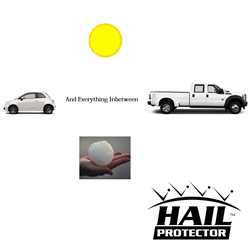 The Hail Protector System pays for itself many times over.
Dallas, TX (PRWEB) August 07, 2013
After 5 years of product and service development and testing, achieving unparalleled performance including largely eliminating hail damage from hail stones even larger than softballs, Hail Storm Products began taking orders for its Hail Protector™ Automobile Hail Protection System on its website on August 2nd, 2013. The Hail Protector™ System is the world's first car cover system for reducing, and largely eliminating, the fear and effects of hail storms on automobiles and their owners.
The average insurance deductible is over $500 per event and those with only liability coverage are on their own when it comes to damage to their vehicles. The Highway Loss Data Institute indicates the average claim for hail related automobile damage is over $3,000 since 2008. Additionally, per Autos.com, a repaired vehicle is said to lose as much as 20% of its resale value versus a vehicle that has not had body work.
"When you add it all up and factor in the inconvenience and fear that accompanies hail storm events, the $299 to $399 price range we've achieved for The Hail Protector System gives people an affordable, yet complete, and high performance system that pays for itself many times over," said Michael Siciliano, President of Hail Storm Products and inventor of the hail protective system.
Featured on "Invention USA" on History® channel, Discovery® channel's "Invent This!: Daily Planet", "Weekend View" on The Weather Channel® and in over 100 print and online media publications, the Hail Protector System has proven it's abilities time and time again. The History channel test included an air cannon which shot 6 pounds of ice at the protective cover at 80mph, equivalent to over 10 softball sized hail stones traveling at terminal velocity, impacting virtually at once in a 1 square meter of the cover. The Discovery Channel test included 4 pound pave stones and a 5 pound watermelon. Click to View History, Discovery and The Weather Channel show footage.
The lightweight, portable, remote controlled device includes three power options. The Hail Protector will run for 1 hour on its "AA" battery pack, 2.5 hours on its car accessory plug, without affecting the starting power of the vehicle, or virtually indefinitely on its AC power cord. "Purchasing The Hail Protector System includes a daily hail forecast and a free lifetime subscription to our early warning alert service, offering 9 alert categories, monitoring up to 4 addresses and alerting via email and/or SMS text messaging," said Steven Krug, Executive Vice-President of Hail Storm Products. "Our goal has been to not only arm the user with a high performance cover system, but to arm them with the highest level of weather data for the most composed installation of their protective cover," added Krug.
The system begins to protect vehicles within 2 to 3 minutes depending on the size. The cover is offered in 3 sizes for cars/hatchbacks/wagons and 3 for SUVs/trucks/minivans. The hail cover has also been successfully tested in winds in excess of 60mph. To place an order for this never before offered level of automobile hail protection, visit Hail Protector™.
About Hail Storm Products LLC
Hail Storm Products is a Texas corporation formed in 2011 for the purpose of developing, manufacturing, and distributing the Hail Protector™ Automobile Hail Protection System. Hail damage to auto's reaches nearly $1B each year and occurs throughout the Continental US resulting in tremendous loss of vehicle value and owner inconvenience while seeking repair or replacement. The company holds an Intellectual Property portfolio consisting of two patents pending in products, trademarks, and hail damage related URLs. Born from identifying a solution that did not exist within the automotive industry for hail damage prevention products, over 5 years of design, prototyping and testing has led to products and services which will revolutionize the way in which consumers and businesses respond to the threat of hail. Hail Storm Products is interested in discussions with individuals, businesses and insurance companies interested in participating in revolutionizing this market segment and yearly concern. For more information, please visit our website at http://www.hailprotector.com or email us at info(at)hailstormproducts(dot)com.