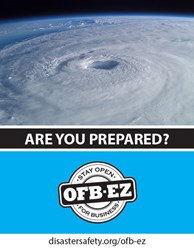 Tampa, Florida (PRWEB) August 06, 2013
Historically, mid-August to mid-September is the peak of the Atlantic hurricane season. Hurricanes can cause significant damage and downtime for businesses and residents alike, as people in the Northeast unfortunately learned when Sandy devastated that region last year. Even a low level hurricane can result in flooding, extended power outages and property damage.
"As we enter these high risk months, small business owners should prepare themselves and their employees for the potential effects of a hurricane by creating and/or updating their business continuity plan. Taking a little time now to prepare for disasters will save money and time later," said Gail Moraton, IBHS business resiliency manager.
The Insurance Institute for Business & Home Safety (IBHS) has created a new toolkit especially for small businesses called OFB-EZ (Open for Business-EZ). This free toolkit is streamlined for businesses that may not have the time or resources to create an extensive disaster recovery plan.
There are five key actions from the OFB-EZ Toolkit that IBHS recommends small business owners undertake now so they will be ready in the event of a hurricane:
1. Verify Important Contact Information for Employees, Suppliers, and Vendors
Send a memo asking employees to update their contact information. This will enable you after a disaster to check on their well-being and share next steps for resuming normal business operations.
Also update your supplier and vendor contact information, as well as other important contacts such as your bank or insurance carriers, and keep this information in a protected place.
2. Update Plans for Critical Business Functions
Critical business functions can change from year to year. Review your existing disaster plan to account for any changes such as the addition of new business systems, products or employees.
Consider the following:

Which functions are necessary in order to fulfill legal or regulatory obligations?
What business functions are essential for maintaining market share and reputation?
Work with your employees so that they fully understand the procedures for recovering the critical business functions. Name an alternate employee to take charge should the primary employee be unavailable to perform the function.
3. Protect Your Data
Determine which data and records are vital to perform the critical functions, and be sure they are backed up on one or more types of media. Store a backup copy onsite for use during small disasters, such as a failed hard drive, and store a second copy in a safe offsite location that can be easily accessed during large disasters. Additional information on protecting your data is available
4. Plan for How You Will Handle Finances During a Disaster
Have an emergency cash reserve fund or credit available. You may need cash in order to purchase supplies or equipment, or relocate your business temporarily.
Identify financial obligations and expenses that must be paid. You should not assume that because your area got hit by a disaster, your suppliers, vendors and creditors are aware of the situation and are automatically granting extensions. Items such as mortgage, lease, or rental payments may still need to be made even after a disaster strikes your business.
5. Make Sure Your Insurance Coverage is Sufficient
Evaluate your insurance policies and meet regularly with your insurance agent/broker to be sure you understand your coverage, deductibles and limits, and how to file a claim. Most policies do not cover flood or earthquake damage, and you may need to buy separate insurance for those events. You also may need to consider a policy that will reimburse you for business disruptions, in addition to physical losses or extra expenses.
For more details and to learn more about OFB-EZ and download the toolkit, visit http://www.disastersafety.org/disastersafety/open-for-business-ez/.
# # #
About the IBHS - IBHS is an independent, nonprofit, scientific research and communications organization supported by the property insurance industry. The organization works to reduce the social and economic effects of natural disasters and other risks on residential and commercial property by conducting building science research and advocating improved construction, maintenance and preparedness practices.