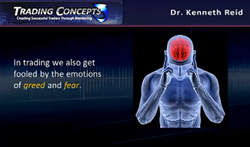 To master the market, master your trading psychology.
Bingham Farms, MI (PRWEB) August 06, 2013
"Charting is what helps folks have the big picture in trading stocks, but in order to make sound decisions, traders must also have the right mindset—this is essential," Mitchell said. With Monday headlines like Reuters' "Wall Street Slips from Record Highs," as reported by The New York Times and CNN Money's headline, "Stocks Hit by Gravity," it could be easy for traders to get anxious and want to change course, leading to emotional trading decisions. Trading Concepts cautions against this approach. Mitchell's 25 years of trading experience includes extensive charting, which Trading Concepts teaches to market traders, along with how to have a proper trading mindset.
Trading Concepts teaches that successful trading begins in the mind and a winning trader's mindset is part of the foundation of their stock trading mentoring program. It is one of the key building blocks to successful market trading. One way Trading Concepts teaches how to have the right trading mindset is with psychological insight from Dr. Kenneth Reid.
In Dr. Reid's Winning Trader's Mindset video blog series, Dr. Reid states that in trading, people can be fooled by emotions of fear and greed, explains why, and gives a strategy to avoid this trap. Dr. Reid believes, "To Master the Market, Master Your Trading Psychology."
About Dr. Kenneth Reid
Dr. Reid holds a Ph.D. in clinical psychology and works with all levels of traders, from beginners to top hedge fund traders providing a customized Trading Coaching Program. Dr. Reid has been actively involved in the equity and futures markets since 1996 as a trader, trading coach, financial newsletter editor and pundit. Dr. Reid has written articles for Forbes, SmartMoney and SFO Magazine, and has appeared on CNBC.
About Trading Concepts, Inc.
Founded in 1994, Trading Concepts quickly established a reputation as one of the industry's finest educational companies in the world. As one of the oldest, most respected trading education companies in the industry, Trading Concepts has mentored more than 10,000 traders in Forex, E-mini futures, Options and Stock Trading bringing them powerful trading strategies and money management techniques that have previously only been available to professional traders. For more information, please visit http://tradingconceptsinc.com/.