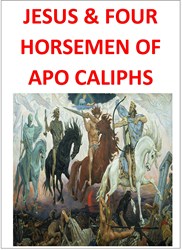 WELCOME TO CALIPH-ORNIA AND the State of Florida with the capital in T-allah-assee and here are the names of a few cities: Ala-chua, Ap-alac-hicola, C-alla-han, C-alla-way, Indi-ala-ntic, M-ala-bar, Man-ala-pan, Oc-ala,
Fern Park, Florida (PRWEB) August 08, 2013
Michael R. Meade's ebook, "Jesus & Four Horsemen of Apo-Caliphs" historically goes back to the true meaning of the biblical word Revelations that comes from the Greek language and means apo-calypse/apo-caliphs; to uncover, a revelation of something hidden. The writer accomplished this by breaking down the word Apocalypse into two words; apo/apa meaning from, away from and calyptic, meaning to cover or conceal, coming from the word kalyphto/kalifto, The intention of the writer Michael R. Meade is to show the reader that all of this death and destruction, this Apocalypse, is coming from or as a result of the Four Horsemen Of The Islamic Caliph-ate that was released by Jesus Christ and has been concealed and hidden from the people for thousands of years.
The writer explains that the Caliph/Kalifto is the head of state in a Caliphate/khalifah, and is the title for the ruler of the Islamic Ummah, a worldwide Islamic community ruled by Sharia Law. Michael R. Meade goes on to explain that the word Caliph derives from the Arabic word KHALIFAH which means "successor" or "representative of Muhammad.
Once again the writer goes back into history as proof of his claim showing that there was a group called the Rightly Guided (APO)-Caliphs or The Righteous (APO)-Caliphs which was a term used in Sunni Islam to refer to the first four (APO)-Caliphs after the death of the Prophet/Profit Muhammad who established the Rashidun Caliphate.
Finally, the writer explains that the Pan-Arab colors are black, white, green and red, the exact same colors of the Four Horsemen Of The Apocalypse that were released by Jesus Christ in the book of Revelations.