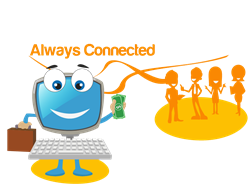 Live Chat Updates
Aventura, Fl (PRWEB) August 06, 2013
Valuechat, the company which provides a Programmable Chat Response (PCR) software, has made many changes to its Live Chat Service. The company has introduced many updates which are supposed to be helpful to their clients. These updates include changes in chat window, chat history etc. Valuechat has also introduced changes in virtual chat history, unanswered questions list and managing campaigns. According to the company, these changes have been introduced to enhance user experience, and to help businesses improve customer interaction and service. These updates will not affect the way the software is used or operated, as the user-interface has not seen any drastic changes.
New Live Chat Features
The new live chat features introduced by Valuechat include:
Chat Customization - the chat frame can be customized to match the design of the
website. This update will provide businesses with more flexibility in integrating the PCR software with their website. Chat initiation can be customized to pre-set the information the customer will need to provide to begin a new chat session. It can be customized to ask for nothing, name or name and email address. The display window can also be customized to automatically minimize or maximize after 20 seconds.
Chat History, Questions and Campaigns - chat history will reveal date of chat and the whole conversation with PCR and Live Operator. The unanswered questions list can be used to send follow-up emails to the customers. It can also be used to train the PCR for dealing with new questions and queries from the customers. Changes have also been made to the way campaigns are managed. With these new updates separate campaigns can be managed from the same administrative account.
Live Chat Rewards and PCR Updates - The PCR now comes with social media icons and referral links that the businesses can use to earn revenue through referrals. An email address can now be added to the PCR for sending messages when it could not answer a customer's question. The PCR also comes with targeted questions that help in determining the true nature of the customer's queries and questions.
Getting The Best Out Of The New Chat Features
Businesses, which are already using Valuechat's services can avail any of these new features. The software will be updated to provide all the features mentioned above, and more. In case of any difficulty using these features, businesses can get in touch with the company through the 'Contact Us' form available in the website.
About ValueChat:
Valuechat provides live chat software coupled with a virtual chat that can be trained to respond to all the questions visitors might have when live reps are not available. If there is ever a question that could not be answered, simply train the PCR to answer the question next time. Don't worry if the question cannot be answered the PCR will alert live reps and send a follow up email to respond later.