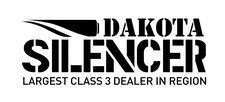 Dakota Silencer, one of America's largest and most trusted silencer dealers
OMAHA, NE (PRWEB) August 06, 2013
Dakota Silencer, one of America's largest and most trusted silencer dealers, is about to start operating out of three new locations. The company previously had locations in South Dakota and North Dakota, and their three new bases are expected to be in Nebraska, Wyoming and Montana. The official BATFE approval for their Federal Firearms License has already been granted for Nebraska and Wyoming. According to the owner of Dakota Silencer Brandon Maddox, the company officials have an upcoming meeting with BATFE to discuss approval for Montana, too. The latest location of the company in metro Omaha, Nebraska is already up and running.
Expressing his satisfaction about the upcoming locations of his company, Brandon said, "The Obama administration has really created an economic boom in this particular sector and we are happy to ride the wave!" Silencers are regulated heavily by the Federal Government, and this is the fastest growing segment in the firearms marketplace nationally. The business of this Class 3 dealer is limited to sound suppressors, popularly known as "silencers".
Dakota Silencer is a highly preferred name in the market because they have streamlined the purchasing and paperwork process for their customers. Brandon Maddox and his team are passionate about silencers, and they have spent many years perfecting their product lines with state-of-the-art, military- grade sound meter testing equipment. Dakota Silencer contracts with Mack Brothers, a large firearms manufacture in Sturgis, SD to make a complete line of their own products. Mack Brothers produces the quietest silencers on the market, and this really has been one of the top factors behind the awe inspiring success of Dakota Silencer.
Discussing his company's future goal as a Nebraska Class 3 dealer, Brandon said "Nebraska is a larger market for us and we are excited about bringing our silencers directly to gun and silencer enthusiasts in that state, but we aren't stopping there. We have plans to open stores in all 39 states where silencers are legal."
About Dakota Silencer
Dakota Silencer offers the easiest way to buy silencers. Specializing in distributing and selling sound suppressors (silencers) for firearms, Dakota Silencer is one of the largest Class 3 firearms and silencer dealers in the nation.
Contact
Brandon L. Maddox
Dakota Silencer
brandon(at)dakotasilencer(dot)com
http://www.DakotaSilencer.com
888-781-8778
Corporate Headquarters:
6809 S Minnesota Avenue, Suite # 203
Sioux Falls, SD 57108-2569