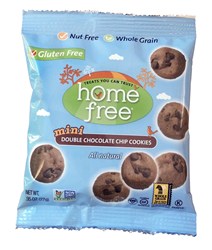 The HomeFree "AHA" moment is when they taste a sample of the cookie and can't believe how delicious it tastes. It's a revolution in allergy friendly snacking and we're gaining new distribution rapidly.
Windham, NH (PRWEB) August 06, 2013
HomeFree, "treats you can trust," today announced that it has added a new single serve flavor, Gluten Free Double Chocolate Chip Mini Cookies, to its line of gluten free allergy friendly multiple-award-winning cookies. These new on-trend cookies meet growing needs across foodservice and grocery channels for inclusive snacks. They are so healthful that they meet school dietary guidelines recommended by the Alliance for a Healthier Generation, as well as similar guidelines recently established as a national standard by the U.S. Department of Agriculture (USDA).
June 26th, 2013, the USDA released new national school dietary guidelines for the first time in 30 years, for a la carte lines, vending machines, school stores, and snack carts, to augment the school lunch standards they released last year. These new smart snack guidelines address concerns about obesity and raise snacking to a healthier standard. HomeFree's new cookies will make it easy for schools and vending companies not only to comply, but also to do so with a treat the students gladly will select. Further, these cookies make it easy for schools to respond to the social inclusion needs of their special diet students. The cookies are free of the 8 most common food allergens (peanuts, tree nuts, eggs, dairy, wheat, soy, fish and shellfish), and are certified gluten free, vegan and kosher pareve. For general health, they additionally are low sodium, Non-GMO Project Verified, all natural, and certified a good source of whole grain by the Whole Grain Council.
HomeFree cookies also make it easy for colleges, hotels, restaurants, and family venues to provide for all their guests, and for stores to offer a "free from" snack consumers will purchase for themselves and for the entire family or classroom to enjoy together. It is because HomeFree cookies are tasty and healthy for everyone, while additionally providing an easy single-product solution that includes people with special diets, that HomeFree cookies won a prestigious Food & Beverage Product Innovations 2012 Award from the National Restaurant Association Restaurant, Hotel-Motel Show. Consumers have such passion for the brand that they voted HomeFree cookies the Winner of the About.com National Readers' Poll 2012 for "Favorite Allergy Friendly Sweets." The new cookie flavor is a response to popular demand.
"Our new delicious double chocolate chip is a double dose of chocolaty goodness and can satisfy any chocolate craving while at school, home or on the go," says Gail Schnur, HomeFree's new Vice President Sales & Marketing, who brings to HomeFree her 25+ years' experience in Foodservice operations, sales & marketing. "The positive reaction to HomeFree cookies in the marketplace has been astounding and inspiring. Foodservice operators are embracing our products as one product satisfies a broad range of consumer needs for healthy, nut free, gluten free, dairy free, egg free snacks and desserts that taste great. The HomeFree "AHA" moment is when they taste a sample of the cookie and can't believe how delicious it tastes. It's a revolution in allergy friendly snacking and we're gaining new distribution rapidly."
The single serve cookies come in Double Chocolate Chip, Chocolate Chip, and Vanilla, and retail for $1.39, $1.49 on web site. They are available in new 10-unit retail display boxes and in cases of bulk single serve bags for which HomeFree offers a new free re-usable countertop display perfect for merchandising the 3 flavors together. HomeFree also offers retail 5-oz boxed cookies, SRP $4.99 at retail, $5.49 on web site. HomeFree cookies can be found at the HomeFree web site http://www.homefreetreats.com and nationwide at a growing number of stores, foodservice venues, and distributors.
__________________________
Gail Schnur was hired to lead the national sales & marketing efforts including strategic planning, channel development and execution for growth & expansion. Gail Schnur is a graduate of Cornell University. Previous employers include Sky Chefs, ARAMARK, Lackmann Culinary Group (a division of Compass), PepsiCo, and most recently Kozy Shack (now a Land O' Lakes brand).
Jill Robbins, HomeFree founder, mother and clinical psychologist, turned to baking when her son was diagnosed with food allergies fifteen years ago. The author of Allergen Free Baking: Baked Treats for All Occasions, Jill focused on creating a solution to the social aspect of food allergies.
HomeFree, LLC is the maker of delicious, all natural or organic, ready-to-eat whole grain allergy friendly cookies. With the highest commitment to product integrity, HomeFree sources its ingredients carefully and conducts allergen testing on ingredients and random product batches. HomeFree, a woman owned business and a Certified B Corporation® for its commitment to environmental and social responsibility, is headquartered in Windham, NH. HomeFree distributes throughout the United States and in Canada. Visit homefreetreats.com or connect via Facebook and Twitter.
For More Information, Contact:
Jill Robbins
President
info(at)homefreetreats(dot)com