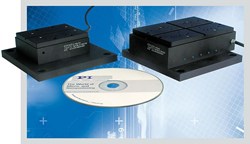 Auburn, MA (PRWEB) August 06, 2013
Applications
These closed-loop stages were designed for high-dynamics precision motion control applications, like those in biotechnology; laser beam control; scanning; optics; lens finishing; and fiber optics.
Higher Dynamics & Lifetime than Lead-Screw / Ballscrew Type Drive Mechanisms
V-106 translation stages / scanning systems achieve significantly higher dynamics than leadscrew-based units; scanning frequencies to 20 Hz and above can be achieved. Another advantage of the frictionless voice coil drive is greater reliability and lifetime than screw-type drive mechanisms. For high-throughput positioning applications, the short settling time of less 75 milliseconds for a 5 mm step is a real benefit.
Features

Frictionless voice-coil linear motor drive for smooth, ripple-free motion
Velocity up to 270 mm/sec (>10 inch/sec)
Scanning frequency several 10s of Hz
Direct metrology linear encoder with 100 nanometer resolution
Travel ranges of 20 mm and 6 mm
Precision cross-roller bearings for ultra-straight and smooth motion
Technical Data Sheet and Specifications of the Voice Coil Linear Positioning Stages http://www.pi-usa.us/products/Micropositioning_Stage_Hexapod/index.php?onl_prw#VCSS