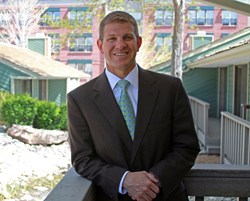 Greenwood Village, CO (PRWEB) August 05, 2013
Dr. Adam Weaver of Mountain Top Periodontics and Dental Implants is one of the leading periodontists who provide patients with the benefits of laser gum surgery. The recently FDA-cleared Laser Assisted New Attachment Procedure (LANAP) utilizes the PerioLase MVP-7 laser that is designed to identify and isolate infected gum areas and remove them without touching or harming any healthy tissue nearby. It has no side effects and virtually no recovery or discomfort post surgery. There is minimal preparation required and the process is much faster than typical surgeries for gum disease treatment.
Traditional gum disease surgeries require that patients receive anesthesia prior to the procedure. They use a scalpel to cut out diseased tissue but commonly also cut out some healthy tissue as well. There is a higher level of bleeding and discomfort involved and patients are not able to resume normal activities that same day as they sometimes are with LANAP gum disease treatment. Laser gum surgery offers many clear benefits to patients.
Because all healthy gum tissue is left intact with LANAP, patients have a lower risk of further gum recession or the need for gum grafting procedures. It also can reduce the chance of tooth loss by providing adequate gum to support teeth. Additionally, the laser gum surgery stimulates the jaw bone which makes keeping teeth more possible by ensuring a solid base that holds them in place.
LANAP works by first identifying and eliminating the bacteria that cause the gum disease. Next, any calculus or tartar that has built up is removed. The laser is then again used to create a tight seal around the area to prevent future bacteria growth and settling, thereby working to reduce any recurrence of the gum disease in the same area. Patients needing gum disease treatment are enjoying the benefits of LANAP every day and Dr. Weaver and his staff are proud to offer this procedure. If you have gum disease and would like to learn if LANAP is right for you and your situation, contact the staff at Mountain Top Periodontics and Dental Implants today.
About The Doctor
Dr. Adam Weaver is a periodontist offering personalized dental care for patients in Greenwood Village, CO since 2000. Dr. Weaver attended Brigham Young University, and during that time took a two year leave to serve as a missionary for the Church of Jesus Christ of Latter-day Saints. Upon his return he completed his bachelor's degree in Medical Science. He attended dental school at the University of Colorado Health Sciences Center where he received his Doctor of Dental Surgery degree. He joined the periodontal residency program at the V.A. Medical Center in Milwaukee, WI, and earned his Masters of Science degree at Marquette University. Dr. Weaver is fluent in Spanish, Portuguese and Guarani. He is part of one percent of dental professionals providing the only FDA cleared laser procedure for gum disease and periodontal treatment. To learn more about Dr. Weaver and his dental services visit his website at http://www.mtperio.com and call (303) 800-0120.