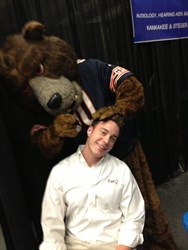 Hearing better is a life-changing experience
Syracuse, NY (PRWEB) August 07, 2013
A location that usually houses professional athletes recently hosted a major public health event to ensure fans would be able to enjoy the excitement for years to come.
On Saturday, July 27th at the Chicago Bears' training camp at Olivet Nazarene University in Bourbonnais, IL, members of the EarQ team, including several of its hearing healthcare providers, participated in a major community health fair by offering hearing health screenings and answering any questions that attendees had about their hearing health or today's advanced hearing technology.
Performing the hearing screenings were audiologists from some of the area's most prestigious hearing health providers: Loyola University Medical Center, Sertoma Speech and Hearing Center, The Hearing Rehabilitation Center and Waterford Hearing.
As the official hearing health provider for the NFL Players Association, EarQ was proud to work with Bears Cares and to participate in such an enriching community outreach event.
"Hearing better is a life-changing experience," said Ed Keller, president of EarQ. "Receiving a professional hearing screening is the first step on an incredible journey to reconnect with the world and experience life in the fullest way possible."
More than 36 million Americans live with hearing loss. For many, occupational factors such as working in loud environments, the risk of repeated head injuries and stress can contribute to a higher incidence of impairment than in the general population. Recent studies have shown that one in five teenagers has hearing loss, as well as 60% of veterans returning from Iraq and Afghanistan. Left untreated, hearing loss can inhibit social interaction and a person's ability to perform daily activities, which can lead to withdrawal, isolation, depression and increased instance of heart disease. Yet, only about 20 percent of people with hearing loss actually use a hearing device.
About EarQ:
EarQ strives to revolutionize the hearing healthcare industry through innovative business and marketing practices, national public awareness efforts and advocating for excellence in private patient care. Through its nationwide hearing healthcare locations, EarQ will work to shatter the stereotypes surrounding hearing loss and empower the millions of Americans who suffer from it to take control of their hearing health.
http://www.earq.com
Like us on Facebook
Follow us on Twitter