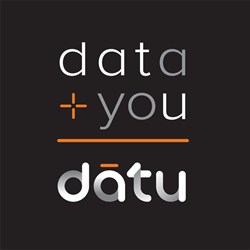 Healthcare is undergoing exciting changes, and health systems now understand how patients and physicians want to connect with them. We see this shift as an opportunity to help change the face of healthcare. - Andy Parham, CEO of Dātu
St. Louis (PRWEB) August 06, 2013
A new healthcare technology company, Dātu (pronounced day-two), focuses on delivering a better user experience (UX) to improve patient outcomes. Formerly BickHealth (an operating unit of St. Louis headquartered Bick Group), but launching today as an independent company, Dātu partners with health systems to optimize their information technology (IT) investments, manage their data more efficiently and create uniquely engaging user experiences. An open platform connecting clinical and consumer driven data is at the center of Dātu's unique set of solutions.
"Healthcare is undergoing exciting changes, and health systems now understand how patients and physicians want to connect with them," says Andy Parham, Chief Executive Officer of Dātu. "We see this shift as an opportunity to help change the face of healthcare and contribute significantly to community wellness."
The company aggregates data from across a health system into a single point of contact, enabling physicians to view a more complete picture of a patient's health history. Patients likewise have access, encouraging them to take a more informed and active role.
St. Joseph Health (SJH), which is a 16-hospital healthcare system serving California, Texas and New Mexico, is making a capital investment to help form this new company. Deborah Proctor, President and Chief Executive Officer of SJH observes, "This is an important step in bringing about our vision for healthcare's future. By working with Dātu Health, we will be forging new connections that empower caregiver, patient, and consumer to work together in the pursuit of health and wellness." SJH will be deploying Dātu's new technology in 2014.
Kevin Dodson, the firm's Chief Strategy Officer, has also commented that Dātu's "advanced information technology and user experience experts combine to provide essential healthcare tools with the user in mind. We are passionate about leveraging technology to improve healthcare."
Born out of nearly 50 years' experience in data-center technology, coupled with modern cloud computing, Dātu brings together a unique collaboration of healthcare professionals, IT experts and consumer-driven user-experience engineers to assist health systems better access and use data. Executive offices are in St. Louis, Missouri. Its leadership team includes Andy Parham, who is President and Chief Executive Officer, Kevin Dodson (Chief Strategy Officer), Jeff Bell (Chief Technology Officer) and Teresa Simmons (Chief Financial Officer).
About Dātu Health
Dātu Health is a technology firm that delivers user engagement in healthcare, enabling large health systems to free their data and connect their care. Dātu Health is a unique resource for healthcare transformation, for IT expertise and for user-experience talent. Dātu understands how to tap cloud-based innovations — to embrace radically simplified information architecture while shedding unnecessary complexity. Dātu Health is now at work, building unique user experiences that strengthen relationships and provide competitive advantage for healthcare systems. For more information, visit http://www.datuhealth.com or follow us on Twitter at @datu_health.
About St. Joseph Health
St. Joseph Health (SJH) is a $5.5 billion not-for-profit integrated Catholic health care delivery system sponsored by the St. Joseph Health Ministry. SJH's comprehensive range of services includes 16 acute care hospitals, home health agencies, hospice care, outpatient services, skilled nursing facilities, community clinics and physician organizations throughout California, Texas, and New Mexico. Collectively, the 24,000 dedicated employees and 6,000 outstanding SJH physicians deliver care to more than 137,000 inpatients and 3.6 million outpatients each year. Throughout its comprehensive regions of care, SJH strives to provide perfect care while building the healthiest communities and ensuring every encounter is sacred. These extraordinary efforts have been recognized locally and nationally, including distinctions in US News & World Report and Magnet recognition. Guided by the traditions of its founders, the Sisters of St. Joseph of Orange, SJH is committed to maintaining a continuum of care that matches the diverse needs of its communities. For more information, visit http://www.stjoe.org.