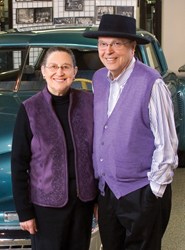 Lincoln, NE (PRWEB) August 06, 2013
The Speedway Motors family is mourning the loss of Joyce Smith, "Mrs. Speedway." Joyce was co-founder of Speedway motors; wife of "Speedy" Bill Smith; mother to Carson, Craig, Clay and Jason Smith; and a great friend to an extended family of thousands of Speedway Motors employees, business associates and customers. Joyce died Sunday after a courageous 34-month battle with cancer.
Joyce Smith played an integral role in the Speedway Motors business since its inception in 1952. Fresh out of college, Joyce loaned her new husband, "Speedy" Bill, the $300 he needed to start the Lincoln, Nebraska-based speed shop. She worked alongside him for the next 61 years, initially serving as Speedway's bookkeeper, parts runner and counter girl, and always as a financial officer, corporate secretary and treasurer.
Through the decades, Joyce provided crucial support to all facets of the Speedway Motors business. "Every step, every minute, every day, she's been right there with me," said "Speedy" Bill in his biography, Fast Company. "I could not have reached this point without her. Even if I had made it this far, it wouldn't have been near as much fun without her. Joyce was the glue that held everything together."
Joyce's six-decade involvement with Speedway Motors earned her a wonderful reputation throughout the racing world and performance industry. She likely attended more races, car shows and trade shows than anyone in America. Since their inception, she walked the fields of Hershey, the aisles of SEMA and PRI, the pits at Daytona, and the lanes of nearly every NSRA Street Rod Nationals. Her tremendous impact on the automotive community was recognized in 2005 when she was honored with the Goodguys Woman of the Year Award. As the proud co-founder of the Museum of American Speed, Joyce was able to share her profound love of racing and rodding with future generations.
The Smith family is extremely grateful for the thousands of friends and fans Joyce has in the racing and street rodding communities, but has respectfully requested privacy during this emotional time. Funeral services will be private. A public celebration of life is scheduled for late September.
In lieu of flowers, the Smith family asks that friends share their memories of Joyce through a memorial at the Museum of American Speed:
Joyce Smith Memorial
Museum of American Speed
599 Oak Creek Dr.
Lincoln, NE 68528
ForJoyce(at)MuseumofAmericanSpeed(dot)com