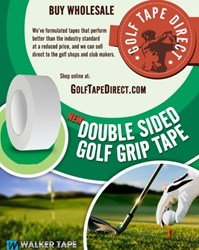 This is one of the smoothest applications I have ever done.
West Jordan, UT (PRWEB) August 09, 2013
Walker Tape Company is pleased to announce the release of their new Golf Grip Tape Division. With the new expansion comes a new website: GolfTapeDirect.com. They have an online store, free sample form, and a informative blog on golf gripping.
The golf grip tape that was developed to lead the new division was created in early 2013. It was extensively tested to ensure it exceeded all performance standards. Two of the biggest challenges in the industry for golf tape manufacturers are creating an easily tearable liner and making the tape heat resistant. The new tape has performed well in both areas.
So much of a tape's success is its ease of application. Walker Tape has not only created a tape that will outlast your grips, but it is also easy to apply, and a cinch to remove. Kurt Steed, owner of a local golf company, has performed 1000's of regrips and had this to say: "This is one of the smoothest applications I have ever done." Kurt has been a crucial part of developing and testing for Walker.
The golf tape will be sold per box wholesale and you can get it in rolls or pre-cut strips. There are plans to sell in smaller quantities, but right now their focus is on the bigger shops and club manufacturers.
Walker Tape Company was established in 1985 and is a family owned and operated business. They are available Monday-Friday 7:30am-4:30pm MST at 801-282-2015, or GolfTapeDirect.com.