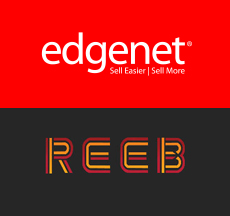 Reeb is just scratching the surface of the power of Cloud-Based m2ō.
Atlanta, GA (PRWEB) August 13, 2013
Reeb Millwork Corporation, one of the East Coast's leading building materials distributors, will be transitioning all 2,500 of its dealerships to Edgenet's Cloud-Based m2ō software.
The move means faster catalog deployment to Reeb dealers, who can now deliver the latest and most updated products to consumers. "We've always been excited at the prospect of employing new technologies to revolutionize the way we do business with our dealers. The new Cloud-Based m2ō software will allow them to employ a selling system that reduces time and cost, better serves their customers, and creates flexibility for the sales and purchasing transaction. We also feel this system will serve as a repository for product knowledge, combining purchasing, selling, and product information in the same platform and screen," said Gregg Hoyer, V.P. Sales and Marketing at Reeb, "m2ō is the right leading-edge technology at the right time for both our future growth and our dealer's strength."
Edgenet's m2ō is currently available through all of Reeb's dealers, and transition to cloud-based m2ō will occur seamlessly. "Reeb is just scratching the surface of the power of Cloud-Based m2ō," confided Edgenet Senior Vice President Tom Clement, "as dealers realize the flexibility and portability of our solution, everyone – from contractors to dealers to Reeb, and most importantly, the customer – will all enjoy a rewarding, even more customized shopping experience."
m2ō manages the selling process for stock, special order and made-to-order products, and enables product selection and configuration through a series of easy-to-navigate clicks and visually prompted questions. m2ō allows Sales Associates to navigate highly complex product offerings for optimal customer service.
About Edgenet, Inc.
Edgenet is a technology company that provides applications and services built to provide great data that delivers great power.
A privately-held company with offices in Nashville, Atlanta, and Milwaukee, Edgenet leads the way in the areas of data services, guided selling and marketing solutions. Edgenet's products are used by top retailers, distributors, web sites and suppliers throughout the retail industry.
Consumers and businesses want details about your products. Edgenet organizes that product information to increase sales – like creating a solution that allows your website to guide visitors to the product that meets their needs, or creating a system we call the Edgenet Network which connects businesses which produce products, those that sell them, and the companies that distribute them.
The Edgenet Network provides unparalleled quality, breadth and value. Learn more about the Edgenet technology at http://www.edgenet.com.