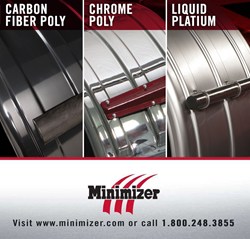 "They are true industry changers. They are what people wanted."
Blooming Prairie, MN (PRWEB) August 08, 2013
Minimizer once again fortifies its position as the most innovative producers of heavy-duty truck parts. Craig Kruckeberg, Chief Visionary Officer of Minimizer, knew that customers craved products that combined the durability of the company's poly fenders with the gleam and style of traditional metal options. So once again, Minimizer delivered.
All three new fenders, the Carbon Fiber Poly, the Chrome Poly, and the Liquid Platium styles are built with the unique advantages of Minimizer's classic poly fenders. They will require no painting, they won't fade, they won't rust, and they won't crack.
"We wanted to offer products of the same caliber as everything else we do here, but we also wanted to offer our client's something different, something that we know has a great look," said Kruckeberg. And that is exactly what the company has done. All three products will add unique style and value to any truck or trailer.
With the industry's only Carbon Fiber Poly Fender, customers will enjoy the visual appeal of a traditional carbon fiber with the structural appeal of a poly fender. In the Chrome Poly Fender customers will find the shine of chrome metal, with the added value of Minimizer's poly technology. If a customer craves a gleaming metal polish, but wants low maintenance combined with tough engineering, than the Liquid Platium Fender is an excellent option.
These products are the most innovative, unique fenders on the market. "They are true industry changers," Kruckeberg said. "They are what people wanted. So now we have products that are visually attractive yet tough enough to handle the bumps on any road." These are the types of responses to customer's demands that help make Minimizer an industry leader.
Leveraging over 27 years of manufacturing at its state-of-the-art manufacturing facility in Blooming Prairie, Minnesota, Minimizer delivers fenders, floor mats and accessories, that will enhance the performance of all makes and models of over the road trucks, construction vehicles, or agriculture equipment.
Enhance and protect your vehicle with Minimizer products. The toughness is unmatched as seen on this Minimizer promotional video entitled "Proving Grounds."
To order Minimizer floor mats find a distributor by clicking here. Minimizer poly fenders and related products are available through exclusive Minimizer distributors.
For more information or to contact a dealer, call us at (800) 248-3855 or visit our website or email us at info(at)minimizer(dot)com.
About Minimizer
Headquartered in Blooming Prairie, Minn., Minimizer manufactures poly truck fenders, poly toolboxes, floor mats, customized mud flaps, and bracket kits. Family owned and operated for nearly three generations, Minimizer parent company Spray Control Systems, Inc., was founded in 1983. Minimizer aims to provide products tough enough to please tough people in a tough industry. For more information call (800) 248-3855 or visit http://www.minimizer.com/.