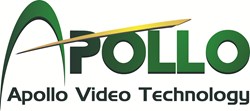 Bothell, WA (PRWEB) August 07, 2013
The 2013 edition of the World Market for Mobile Video Surveillance Equipment names Apollo Video Technology (Apollo Video) as the transit bus market leader in the World and the Americas. IHS Electronics & Media has just released the latest edition of the report, which is published every-other year and ranks companies based upon annual sales revenue. Apollo Video was ranked as the market leader in the Americas in the 2011 edition of the report. The 2013 edition reports an increase in Apollo Video's World market share of nearly two percent, outranking other companies within the industry.
"We continue to invest in the integration of software and hardware technologies, providing transit agencies with capabilities far beyond standard video surveillance. We are constantly improving our solutions to exceed the expectations of our customers," said Rodell Notbohm, founder, CEO, and managing partner of Apollo Video Technology. "We've designed our solutions to help agencies increase safety and security, while improving operational efficiency, allowing them to save time and money. We are honored to receive this acknowledgement validating our achievement."
As an industry leader in secure wireless connectivity, Apollo Video's solutions allow transit officials to remotely view cameras on-board to quickly investigate passenger and employee concerns. In addition, the company's ViM Software™ provides fleet-wide management of the RoadRunner™ mobile digital video recorder (DVR) systems with comprehensive and easy to use tools designed to increase accessibility, reduce maintenance and operating costs, improve efficiency, and mitigate risk and liability.
Follow Apollo Video Technology on Twitter @ApolloVideo.
About IHS Electronics & Media
IHS Electronics & Media provides market, technology and supply chain data, analysis and forecasts at every operational step of the electronics and media value chain. IHS regularly publishes detailed research on video surveillance and security services markets, among others. http://www.ihs.com/electronics-media
About Apollo Video Technology
Apollo Video Technology is a leading manufacturer of video surveillance and fleet management solutions for public transit, rail, school transportation, law enforcement, military, commercial transportation, fire and EMS applications. With public and private-sector installations throughout North America and worldwide, the RoadRunner™ mobile video and audio recording system provides exceptional video quality with management software optimized for wireless downloading and live video streaming.
Renowned for its reliability, durability and ease of use, Apollo Video solutions improve accessibility of data and deliver streamlined, fleet-wide management of video surveillance and on-board equipment to reduce liability, mitigate risk, improve efficiency and reduce maintenance and operating costs. Apollo Video is unique in the industry with software interoperability and compatibility across multiple generations of hardware.
In 2013, Apollo Video was named the No. 1 supplier of transit bus mobile video surveillance equipment in the World* and continues to be the No. 1 supplier in the Americas, since 2011 - an achievement that further supports the company's commitment to offer its customers superior, compatible solutions throughout the lifetime of their fleet.
Since its release in 2004, Apollo Video has supplied the RoadRunner system to over 340 agencies worldwide, representing over 17,000 total implementations.
*2013 and 2011 editions of IHS World Market Report for Mobile Video Surveillance Equipment (http://www.ihs.com).