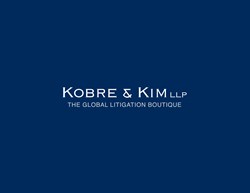 (PRWEB) August 06, 2013
Kobre & Kim LLP continues to receive accolades for its Asia practice, this time in Benchmark Litigation's Asia-Pacific rankings. The firm, which has been previously praised by the publication for its U.S. practice, was ranked as "Highly Recommended" in International Anti-Corruption Investigations for the Asia-Pacific region by publication Benchmark Litigation.
Additionally, the publication ranked partner William McGovern as a "Litigation Star" for International Anti-Corruption Investigations in the Asia-Pacific region and as a "Local Dispute Star" for Hong Kong in the practice areas of General Commercial, Regulatory Investigations, and White-Collar Crime.
This year marks Benchmark Asia-Pacific's inaugural publication in which it ranks firms and litigation stars in 10 Asia-Pacific countries, including Hong Kong. The publication dispatched an on-the-ground team to compile the individual and firm rankings after months of research and interviews with firms, covering casework, litigation trends and peer review.
About Kobre & Kim LLP:
We devote 100% of our practice to litigation and arbitration, conducting much of our work as special conflicts counsel in international financial and commercial cases. We have a unique business model in that we focus on discrete special litigation counsel engagements. As such, we offer clients a conflict-free team of advocates able to act against virtually any institutional entity.
We are the only litigation boutique that focuses on cross-border litigation and international investigations, offering U.S.-qualified attorneys working alongside English barristers and solicitors, working out of offices in Asia, the Caribbean, Europe and the United States. Many of our cases involve simultaneous proceedings in various U.S. and non-U.S. courts, as well as the offshore jurisdictions and various major international dispute resolution centers around the world.