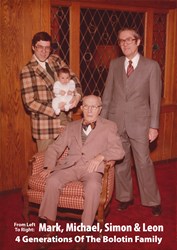 Hermitage, PA (PRWEB) August 07, 2013
Bolotin Furniture had small beginnings, but developed a big history. In 1906, 18-year old, Simon Bolotin came to the United States from Czarist Russia. He arrived in Youngstown, Ohio, where he had relatives with a furniture business. Simon's relatives suggested he start selling furniture in Sharon, PA. He began by selling rag rugs, curtains and miscellaneous household items door-to-door. He later brought his family over and his father Moses joined him in the business.
The Bolotin family has been satisfying customers in western Pennsylvania and eastern Ohio since 1906. That's when Simon Bolotin founded a retail furniture store that catered to the average American of the day, offering the finest quality home furnishings at the lowest price of any competitor. Leon Bolotin, Simon's son, joined the company after graduating from college and serving in the military during World War II. After locating on Sharpsville Avenue in Sharon and later Hickory Plaza, now Hermitage Towne Plaza, the store moved to its present location at 3056 E. State St. in Hermitage in 1968. Leon's son Mark, the company's fourth generation, took over the reins as president in 2000 and controls the business today.
For over a century, Bolotin Furniture has provided its customers with uncompromising customer service, complimentary professional design services, and valued products from the finest quality brand names suppliers such as like Drexel-Heritage, American Leather, Hammary, La-Z-Boy, Bassett, Magnussen and many others.
The President of Bolotin Furniture, Mark Bolotin, was quoted saying: "My decision to close the store was a very difficult one. Bolotin Furniture has been part of the Shenango Valley for over 100 years and we've made many friends over that time. I want to express our sincere appreciation to all our clients for their continuing support. As a special gift to these valued clients, we will reduce every item in our multi-million dollar inventory up to 75% off for immediate liquidation. This includes living rooms, bedrooms, dining rooms, hand-made oriental rugs and accessories. These reductions are being offered without respect to manufacturer's minimum pricing policies. I invite you to discover the finest furniture in our trading area of western Pennsylvania and eastern Ohio...at savings you'll never see again. Everything must be liquidated...down to the bare walls. This never-to-be-repeated offer is my way of saying 'Thank you for 106 delightful years'."
Mark Bolotin has been growing an internet business since 2006. With the growth of the internet business, Mark plans to concentrate his business efforts on growing his on-line store. After over 37 years of retail hours, he is looking forward to spending more time with his grandchildren in Brooklyn as well as finding time to travel.
The Sale is being conducted with the assistance of Deere Park Association (http://www.dpa-inc.com), the nation's leading home furnishings consulting firm. To insure every Bolotin Furniture customer receives the same personalized attention that has been the Bolotin tradition, Deere Park will provide extra staff and resources to assist the Bolotin Furniture employees. Advertising and marketing for the event will be directed by Focus Media Company, (http://www.focusmediacompany.com) using direct mail, newspaper and TV ads.
About Deere Park Association:
Deere Park Association (http://www.dpa-inc.com) is recognized by independent research as one of the largest and most experienced consultants working exclusively in the home furnishing industry. It is a privately owned company with a history of operations in the furniture business dating back to 1900.
No project is too considered too large or too small for Deere Park.
Services include:

Specialty Planned Events
Inventory Liquidation
Store Closings
Going Out of Business
Cash Raising
Moving or Retirement Sales
Business Restructuring
Home Furnishings dealers have confirmed that Deere Park Association is a company that has "a proven record of successful projects."
For additional information contact Jim Bullock of Focus Media Company at 847 714 1212.