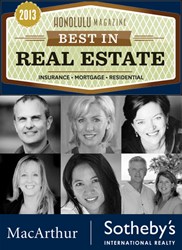 For those looking for a trusted real estate brokerage with decades of experience, MacArthur Sotheby's International Realty excels at highly personalized, concierge-style service with authentic, island-style hospitality. - Dodie MacArthur
Kamuela, Hawaii (PRWEB) August 09, 2013
As the Hawaii real estate market takes off, the readers of Honolulu Magazine now have the first-ever guide to the top real estate brokers and agents in the Aloha state. The Big Island's own Brodie Callender, Gayle Ching, Rebecca Keliihoomalu, Renee Kraft, Lovette Llantos and John and Pam Miller were recognized in the Honolulu Magazine's '2013 Homebuyer's Guide' as some of the most trusted real estate agents in the state.
Honolulu Magazine explains that, "The selection process was purely editorial; no one was able to buy their way onto the list. We retained local firm Ward Research to survey more than 10,000 new homebuyers, real estate professionals and Honolulu Magazine readers. The survey was based on customer satisfaction: Each person was asked to list a real estate agent, and a mortgage and an insurance professional they would recommend to a friend, and then rank him or her on customer service and satisfaction. Professionals surveyed were asked to recommend one colleague as well as two people outside of their company."
Dodie MacArthur, CEO and Owner of MacArthur Sotheby's International Realty, has over 40 years of experience in Hawaii real estate and is proud, but not surprised, to see so many of her agents receive the endorsement of the '2013 Buyer's Guide'.
"Our long history on the Big Island means that we understand the climate, community, neighborhood and business relationships in ways that no other brokerage can. That's why we earn high levels of repeat business and thrive on return customers and their referrals. We begin each relationship with the goal of becoming lifelong partners and an island resource for our clients. It's our mission to do everything we can to make our clients 'clients for life'."
MacArthur Sotheby's International Realty's sophisticated, savvy and extensively trained agents have an intimate knowledge of the properties within the Big Island community.
Unlike many other real estate brokerages in Hawaii, MacArthur is exclusively aligned with Sotheby's International Realty® and receives more than 19,000 unique visits to its home page each month. MacArthur is also the exclusive sponsor and administrator of the popular 'Big Island – Hawaii' Facebook page, showcasing the Big Island lifestyle and adding another 21,000 members to its global audience. For the connoisseurs of life, MacArthur Sotheby's International Realty offers boutique services with global marketing reach with offices on the Kohala Coast at Kings' Shops (808) 885-8885, in Kailua Kona at the Keauhou Shopping Center at (808) 331-3131 and in up country Waimea at Parker Ranch Square at (808) 885-8885.