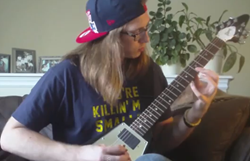 Get out of the box and into the bop: Learn a cool bebop guitar lick in two minutes
New York, NY (PRWEB) August 05, 2013
Bebop is a revolutionary jazz style that began in the 1940s with the playing of Charlie Parker, Dizzy Gillespie and Charlie Christian. It is characterized by fast, syncopated tempos, intricate melodies and phrasing, harmonic complexity and freewheeling improvisation.
Chord progressions for bebop tunes were often taken directly from popular swing-era songs, reharmonized with more advanced chords and reused with a new and more complex melody, forming new compositions. Common chord progressions included the blues (I-IV-V, with ii-V transitions) and especially the changes to the pop standard "I Got Rhythm" (I-vi-ii-V).
In today's free online guitar lesson from GuitarControl.com, "How to Play a Cool Bebop Guitar Lick, Part 2," Cameron Rasmussen demonstrate a great bebop guitar line in D minor. The key to this style of jazz guitar is to emphasize the chord tones on the strong beats and non-chord ("outside") tones or chromatic approach notes on the weak beats or the "and" between the beats. To ease you into playing a bebop lick on guitar, Cam uses a single D minor 7 chord.
He plays the lick at speed, then at a slower tempo. Note that the lick starts out with a simple D minor 7 arpeggio. The remainder of the phrase weaves around the notes in D minor. Try resolving the lick by ending on notes in a C major chord. Music tabs accompany the lesson.
GuitarControl.com, a leader in online music education, is the brainchild of Philadelphia guitarist Claude Johnson. Since 2004, the site has offered lessons taught by virtuoso in styles ranging from rock and blues to jazz and country to classical and fingerstyle acoustic, as well as many DVD courses, including Killer Guitar Control Secrets, How to Play Smokin' Blues Guitar and Killer Lead Guitar Made Simple.