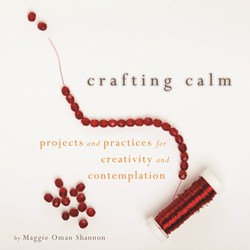 (PRWEB) August 06, 2013
Rebecca Elson of The Magical Buffet recently gave Crafting Calm: Projects and Practices for Creativity and Contemplation a five-star review. As she said, "By the time I was done reading Crafting Calm I had a handful of projects bookmarked that anyone could do, even me!" She decided to try out one of the projects right away, the portable shrine. After her first spiritual craft, she described the book as, "This is how good Crafting Calm by Maggie Oman Shannon is; I couldn't help but dive right in and create something after reading it!"
Maggie Oman Shannon was also recently interviewed on Publishers Weekly Radio by the religion reviews editor Marcia Nelson. They discussed the big religion books of the fall.
New Spirit Journal reviewed Crafting Calm, stating, "Use crafting as prayer and commune with the divine while making meaningful art. This is a terrific book you will use many times over."
Maggie Oman Shannon will be leading a workshop and reading from her book at East West Bookshop in Mountain View, CA on August 22, at 7:30pm. Crafters and non-crafters alike are welcome! She will also be appearing on Mind Over Matters Radio on August 26th, HealthyLife.net Radio on October 8th, and Life Mastery Radio on October 15th. Find out more about Maggie at maggieomanshannon.com.
Crafting Calm:
Projects and Practices for Creativity and Contemplation
By Maggie Oman Shannon
Craft the Way to Inner Peace
In this wild and wired world, it is increasingly difficult to truly relax and find stillness within. Maggie Oman Shannon's Crafting Calm is a DIY guide to peace of mind, offering an abundance of ways to achieve serenity and satisfaction by living the handmade life. Author Oman Shannon, the spiritual director of a Unity Church, explores crafts and creativity as a lifelong practice with enormous physical, emotional and spiritual benefits.