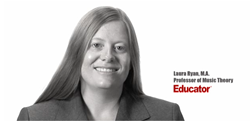 Composing music has just been made easier, and learning how to has never been simpler.
Los Angeles, CA (PRWEB) August 06, 2013
Educator.com's new Music Composition course with Professor Laura Ryan explores the elements of great music in varying genres.
Composing music has just been made easier, and learning how to has never been simpler. Educator.com brings live keyboard demonstrations to the dual tablet and professor interface in their lessons for more in-depth and comprehensive musical lessons. Professor Laura Ryan starts the lesson off by introducing the fundamental building blocks to music. Then she branches off into discussing roman numeral analysis in famous pieces, score reading, characteristics of chord progressions, the nature of different orchestral instruments, song forms, and more.
Professor Laura Ryan's love for music has evolved into a successful career as a musician and instructor. Prior to filming this course, this accomplished musician had just returned from a European tour with her band. Her musical history also includes a Master's in Music from Boston University. Her lessons are a harmonious combination of 6+ years of teaching experience and arpeggiated enthusiasm.
Accompanying Educator's Music Composition course is Music Theory, Music History & Appreciation, and much more in varying subjects. Educator's extensive library of 70+ also includes courses in Math, Science, Language, Computer Science, as well as SAT and AP Test Prep. Complete access to all of these courses is available for the affordable price of $35 dollars a month. Educator.com empowers students to learn anything, anytime, anywhere. Other super saver options include a 6-month or 12-month bundle plan for $150 and $240 a year, respectively.
Educator.com is proud to provide today's scholars with advanced digital study materials that meet both their academic and financial needs. New and exciting courses are frequently added. At this time, Educator's Music Composition lessons and accompanying free sample lessons are available for immediate viewing.
###
Educator.com pairs students with the best university professors and educators in the country. Educator's goal is to provide high school, college, and professional students with a variety of academic subjects in an online video format that is affordable, accessible, effective, and comprehensive.
The most effective way to improve education is to have the best teachers teach. With the best instructor in a subject, learning anything is possible. Every student deserves an excellent education regardless of geographic location or socioeconomic status and with Educator.com's affordable pricing everyone can access the site's complete content. For more information about the company please visit the About Us Page.