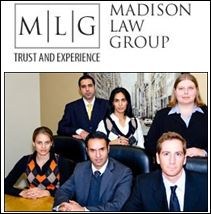 (PRWEB) August 06, 2013
Accidents often happen at the worst possible time, leaving people financially strapped if they need an attorney to secure the compensation the responsible party owes them. The Madison Law Group understands the economics of justice and offers free assessments to potential clients seeking an auto accident attorney or other personal injury lawyer in the Los Angeles area.
Many victims of accidents end up not getting the financial compensation they deserve because they are intimidated by the cost of litigation – even the cost of just getting an auto accident lawyer or other attorney to evaluate their case. The Madison Law Group's free assessments help take the financial anxiety out of determining whether you have a case for compensation against the party responsible for your injury. Our Los Angeles personal injury attorneys also work on a contingency basis, meaning that if we take your case, we're only paid if we win.
The Madison Law Group provides Los Angeles personal injury attorneys for a variety of case types, including:

Slip and fall cases
Auto injury cases
Medical malpractice
Wrongful Death
Brain and spinal injury
Dog bites
Personal injury
In addition to these areas of the law, we also can provide legal help in a number of other areas. To find out if we can help you, just give The Madison Law Group a call.
With our free case assessment service and our contingency fee system, The Madison Law Group puts justice in financial reach of hard-working people who may have to go up against well-heeled large companies or insurers to get the compensation they deserve.
To schedule a consultation with the Madison Law Group, visit http://www.madisonlawgroup.com/ or call 1-866-534-2591.
About The Madison Law Group
The Madison Law Group is a Los Angeles area personal injury law firm founded by attorney Kyle Madison. Our firm has litigated hundreds of personal injury cases and obtained just compensation for many clients injured in auto and other accidents.
The Madison Law Group prides itself on customer service and has a strict 24-hour policy for returning client calls. The firm also can help clients find affordable medical care and other services while awaiting compensation.