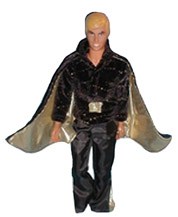 Doll Clothes Superstore is featuring three outfits that were inspired by the dramatic costumes worn by the late Elvis Presley
Tolland, CT (PRWEB) August 12, 2013
The date August 16, 2013 will mark the 36th anniversary of the death of Elvis Presley, the King of Rock and Roll. From dressing up and performing as Elvis impersonators to holding candlelight vigils at Graceland, his former home and final resting place, people have come up with many different ways to memorialize and pay tribute to the King of Rock and Roll.
The online store, Doll Clothes Superstore is keeping the memory of Elvis Presley alive in a very special way. The online store is featuring three outfits that were inspired by the dramatic costumes worn by the late Elvis Presley. One garment is a black velvet suit with gold metallic inset on the pants, along with a gold lined jacket, a gold trimmed belt and a coordinating cape. The other two outfits are also black with gold and purple accented jackets, pants, belts and corresponding capes. They fit perfectly on Ken dolls and GI Joe action figures.
In addition to the Elvis Presley inspired doll clothes, an amazing variety of clothes for some of today's most popular dolls can be found on Doll Clothes Superstore, such as American Girl, My Twinn, Cabbage Patch, Cabbage Patch Kids, Barbie and Ken. The online store also features matching outfits for girls and their dolls, stuffed animal clothes, along with doll shoes and accessories.
Doll Clothes Superstore is a family company, which began more than 23 years ago, with a mother selling handmade doll clothes at craft shows, alongside her son and daughter. From the very beginning, Doll Clothes Superstore has specialized in affordably priced, high-quality, handmade doll clothes. The website http://www.dollclothessuperstore.com was founded in 1998, making it possible to offer affordably priced doll clothes to customers around the world. For more information, contact Doll Clothes Superstore at dollclothessuperstore.com or (860) 871-9006.