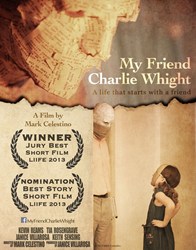 IAFT taught me all the filmmaking basics, as well as the technical skills that I needed. It was a tremendous way to start.
(PRWEB) August 07, 2013
IAFT graduate Mark Celestino won JURY BEST SHORT at the 2013 Long Island International Film Expo with his IAFT thesis film, My Friend Charlie Whight. William Sadler (Shawshank Redemption) announced the Jury award on July 25th.
"Really, I was surprised because there were so many other great films there," said Celestino. "And this was the first festival that Charlie Whight was entered into."
My Friend Charlie Whight is about a man made out of paper and everything that he does types onto his body line a script, filling the empty space. When he makes a friend for the first time, he starts to live life… But in doing so, he shortens his existence.
"I'd say about 3 months pre production, from the idea to paper," said Celestino. "We shot for 3 and a half days and had a week of post production. The best experience for me was seeing our main character Kevin Reams looking like a real live paper guy. And watching actress Tia Rosengrave… She did such an amazing job and it was her first experience acting. Really… We just found her on the street!"
Celestino's previous film, Learning How To Fish, was chosen by the South Korean International College Peace Film Festival and was named in SM's Big Shot Top 15 Filmmakers of the Philippines.
"I go by the Nike slogan, 'Just do it,'" exclaims Celestino. "A lot of new filmmakers are afraid to make mistakes in their films- including me. But I've learned so much more by pushing myself and making mistakes. IAFT taught me all the filmmaking basics, as well as the technical skills that I needed. It was a tremendous way to start. And working on other IAFT student films was a great learning experience. I believe that by being around the creative and talented peers and mentors at IAFT boosted me and inspired me toward making great films."
Celestino and Charlie Whight Producer Janice Villarosa also collaborated on the feature documentary Shunned – recently shown at the Cannes Marche Du Film. He is currently working on another short film and developing two feature scripts, including a feature length version of Charlie Whight.
To find out more about "My Friend Charlie Whight" - http://www.facebook.com/myfriendcharliewhight.
About IAFT:
The International Academy of Film and Television (IAFT) was founded in 2004 and currently has four campuses worldwide: Los Angeles, Miami, Hong Kong and Cebu, Philippines.
IAFT's mission is to nurture the creativity and individual talents of their students, to cultivate today's independent global filmmakers, and to build upon the entertainment traditions of Hollywood and other film capitals of the world. IAFT places a strong emphasis on professional standards - using the latest filmmaking & acting techniques and equipment - taught by experienced, working industry professionals.
IAFT is located at 635 S. San Fernando Blvd. in Burbank.
Please visit http://www.iaft.net for more info.