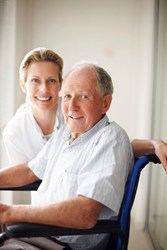 Pittsburgh, PA (PRWEB) August 07, 2013
The Pittsburgh-based company Automated Security Alert offers a variety of medical alarms, some that have nearly an acre of coverage and can send a signal from underwater. In their mission to help seniors and physically-challenged person to live in their own homes as long as possible, they want their customers to be able to go on vacations and visit family members anywhere in the United States without losing the safety and security of their medical monitoring. "Since we have more people living in different homes and visiting many places, the ability to be able to easily move your medical alarm service is necessary. Automated Security Alert makes it easy for people to do this," said Jason Seyler, Automated Security Alert's Director of Life Safety.
Seyler is excited about the newest development that the medical monitoring company offers their clients. Although they use the latest technology, it is extremely user-friendly. He explained the simple process by saying, "Whenever the time comes the customer just powers down the medical alert system by unplugging the main unit and then pressing and holding the green reset button. After a few beeps the lights on the machine will go out. This means their system is powered down and won't beep or bother them while they're traveling. All they need to do when they get to the new location is plug the medical alert into the phone jack and electrical outlet. Then they can call us at the customer service office, we will take all the info we need, and we will get the system working at that location the same day."
Automated Security Alert, Inc., has provided freedom and security since 1988 to over 60,000 consumers through the use of technology and services that enable seniors, physically-challenged persons and recovering patients to maintain an independent lifestyle in their homes. ASA's creative, dependable solutions include medical alert systems (personal emergency response systems); fall detection systems; telehealth and medication management systems, including electronic pill dispensers and monitored medication dispensers.
For further information, please contact Matthew Couillard at 1.800.338.7114.