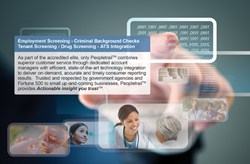 Drug abusers cost twice as much in medical and worker comp claims as drug-free workers. More and more companies are realizing the security and production benefits resulting from Peopletrail's drug testing services.
SLC, UT (PRWEB) August 06, 2013
Peopletrail, a respected long-time provider of background checks and drug screening services, recently enhanced their internal operations and expanded many of their services, including those surrounding their drug screening program. These enhancements to Peopletrail's drug screening program provide convenient nationwide screening locations. The enhancements take the drug testing service into a more refined substance detection and prevention management program for employers and other organizations wishing to manage substance abuse with its members.
"Drug screening has been a long-time service provided by Peopletrail and many of our valued clients have realized the security and production benefits from our substance detection services," stated, Wallace T. Davis, President & CEO. "The drug screening services have increased exponentially for Peopletrail over the last few years. We are thrilled about the many enhancements and expanded services recently implemented at Peopletrail. Peopletrail is well positioned to handle the increased demand with our substance abuse program. We are confident our clients will benefit from the value provided through increased resources and expanded tools to our already successful drug screening program."
A Brief Description of the Substance Abuse Detection and Prevention Program from Peopletrail:
Peopletrail has a well-established, professional, nationwide network of collection points for drug screening services. The Peopletrail nationwide network provides valued clients with convenience and simplifies the whole process under one management and reporting structure. Agents conduct urine drug tests and send test samples to the laboratory.
Expert Witness Testimony
Peopletrail and its nationwide professional network are available to provide expert testimony. Typically, this is done via telephone during administrative hearings. However, expert witnesses will travel to the court if necessary. Peopletrail also retains a copy of all drug-testing records (chain of custody, laboratory reports, MRO reviews, etc.) for a period of five years. If a legal issue were to arise, Peopletrail can provide complete documentation relating to the particular test.
Hair Testing
For employees who are hiring positions that handle large amounts of cash flow, testing applicants at additional levels ensures quality hires. Hair testing is especially helpful for casinos, and bio companies, along with retail establishments. Whereas urine tests accurately portray the donor's immediate lifestyle, hair tests can portray a three-month window of drug use. At the request of a client, a complete hair-testing program can be implemented. This is in addition to the urine testing programs required by federal regulations.
Medical Review Officer (MRO)
Peopletrail uses only board certified Medical Review Officers who currently hold certification through The American Association of Medical Review Officers. All MRO's utilized have an excellent knowledge of MRO regulation and provide expert guidance to clients regarding compliance issues.
Non-DOT Drug Screening
Non-U.S. Department of Transportation (DOT) mandated businesses can set up any variety of drug screening services for their business. Since those clients are governed only by their internal policies, Peopletrail will customize a drug screening solution that fits the client needs.
Clients test their employees or potential employees for drugs to keep drug abusers out of their workplace and to maintain the safety of other workers. Clients choose Peopletrail drug screening services to coordinate pre-employment, random, return-to-duty, reasonable suspicion, post-accident, or follow-up screenings.
Overnight Specimen Shipping
Immediately following the collection, the Peopletrail nationwide staff ships the samples to the laboratories via overnight courier service. This allows for the quickest possible turn-around time.
Random Drug Screening
Random drug testing is performed either quarterly or on a monthly basis at the required annual rate established by DOT or at rates established by the client. Peopletrail monitors all clients to make certain that the correct numbers of tests are performed. Employee rosters and pools are updated on a regular basis. A random computer selection program specifically designed for Peopletrail selects those individuals who will be required to submit to a random drug test.
Result Reporting
Peopletrail provides rapid turnaround time through five different means of reporting. They include the following:

Secured fax
Automated e-mail
Secure Internet site
Telephone call by client service representative
Substance Abuse Detection and Prevention Training
Peopletrail provides training about substance abuse detection and prevention. A training member from Peopletrail will prepare and present interactive lectures and discussion groups based on the client's needs. DOT drug screening training is also available upon request.
Clients may wish to conduct trainings to educate employees about substance abuse detection and prevention.
An experienced member of Peopletrail's training team will share their extensive knowledge of substance abuse detection and prevention in several series of informative, interactive lectures and discussion groups. Peopletrail also will provide clients with the required DOT training at their request.
All of Peopletrail's substance abuse detection and prevention services comply with all federal and state requirements.
Customers can also schedule a complimentary consultation on the drug testing and education services by visiting the company's new web site at peopletrail.com.
About Peopletrail
Peopletrail is a leading provider of custom employment, tenant and drug screening solutions, criminal background checks, & ATS integrations.
As part of the accredited elite, only Peopletrail combines superior customer service through dedicated account managers with efficient, state-of-the-art technology integration to deliver on-demand, accurate and timely consumer reporting results. Trusted and respected by government agencies and Fortune 500 to small up-and-coming businesses, Peopletrail provides actionable insight you trust.
Interested customers in Peopletrail's background check and screening services can contact the company at 888.223.6623 or by visiting the company web site at peopletrail.com.