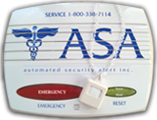 Pittsburgh, PA (PRWEB) August 08, 2013
In a world where many home monitoring medical companies are competing for business, the quality of care can slip. Many medical alarm companies are owned by security companies that immediately dispatch an ambulance when a button is pressed, rather than assessing a situation to see if an ambulance is needed. The Pittsburgh-based company Automated Security Alert treats their customers differently, believing the practice causes unnecessary expense. Additionally, this practice can deter seniors from pushing the button in a real emergency if they don't realize that their symptoms are serious enough to need emergency help.
To provide their clients with what they believe is the best option, they equip their units with a technology that is so finely tuned to register the sound of a human voice that it can pick up a human voice from a distance. By using this technology a Life Safety Operator can speak to them through a base unit about the size of an answering machine to see if the client needs an ambulance or if they need some other sort of assistance. The technology can pick up a senior's voice from almost anywhere within a home, even on different floors. Once the button is pressed, communication is set up automatically on a small base unit. Jason Seyler, Automated Security Alert's Director of Life Safety said, "Many companies will offer voice extenders or two systems for a person's home, with Automated Security Alert you only need one." In rare cases where the base unit may not be able to pick up a senior's voice, or if they are unable to speak, Life Safety Operators send an ambulance to ensure safety.
For further information, please contact Matthew Couillard at 1.800.338.7114.